Until now, your ability to plant 5 trees was pretty much left to a fortuitous dream… Boxed Water has made that dream a heckuva lot easier to attain.
By now, we all (hopefully) understand the importance of water: keeping it potable and pollutant-free, NOT letting too much of it run away from us while we're brushing our teeth and bathing our bodies… and perhaps most immediately on our minds, making sure we are drinking enough of it (which many people still consider 64 fluid ounces per day).
Most of us opt to reach for convenience — purified, packaged water. It's comforting to know that someone out there is doing the literal dirty work for us, yet the task of deciding which will best suit you can be daunting at best.
Enter Boxed Water, one of the good guys (and available now wrapped in a custom FP design here), with the team adding their signature touch — in the shape of an iconic Buti symbol.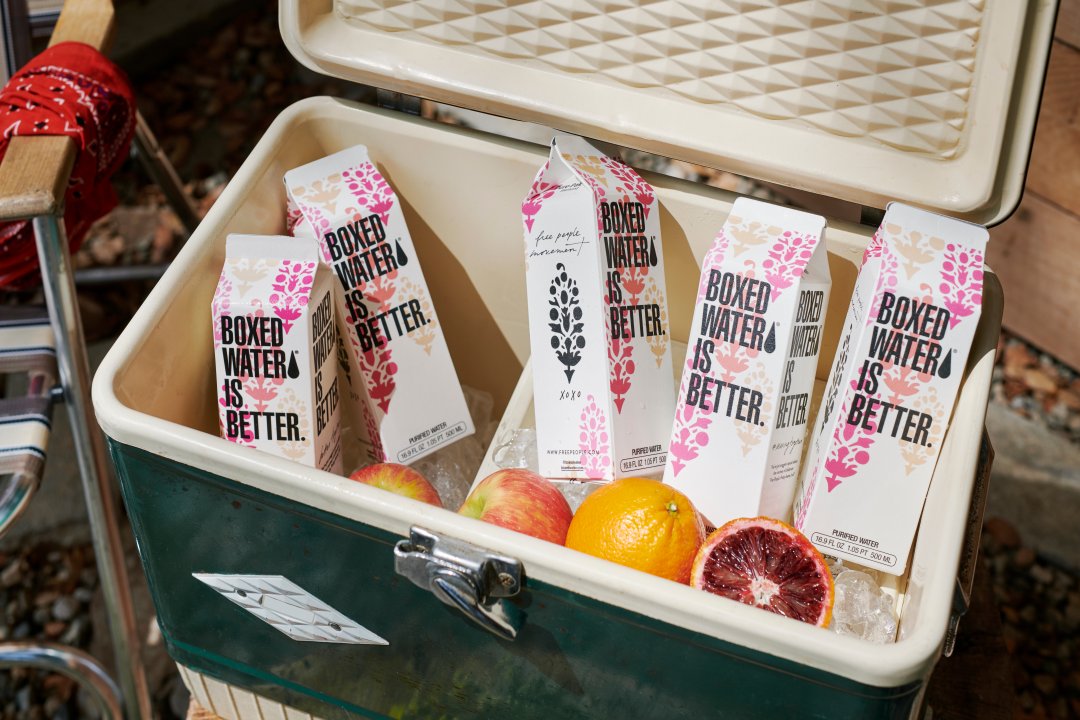 After speaking with Boxed Water, it's apparent that their business is about so much more than water…it's about Mother Earth as a whole. Win-win, in our book.
"Trees are better for our planet, and National Forests act as the planet's water filter system. 123 million Americans get water that has been purified by our National Forests.  They moderate the climate, improve air quality,  shelter wildlife, and not to mention, they're beautiful." To that end, Boxed Water developed their signature carton with sustainability at the forefront of their strategy. Each box is made from 74% renewable materials meaning our planet can grow more trees for paper (unlike oil-based plastic bottles). And don't worry, the materials are still 100% recyclable – click here to how your city recycles cartons). Not only is the box, in a word — better — but the brand is giving back.
And this is the fun part — YOU can help in the reforestation! Boxed Water is already on a mission to plant trees with its #BetterPlanet campaign, but we're asking you to join to plant WAY more. All you need to do is take a photo with your extra special Free People box, post it with the hashtag #betterplanet and @FreePeople, and Boxed Water will plant FIVE trees on your behalf.
Go to Boxed Water's site for more info on what they do, who they are. You'll be glad you did. Offering a sustainable alternative to plastic bottles is pretty great… giving back to areas of need is beyond, and you can play a significant part in their getting there.
Lead GIF by Jessie Kanelos Weiner.