"The people and places our teas come from must have good vibes and it's important to be able to reciprocate those good vibes and express gratitude to ours growers for sharing their passion and products, something I feel can only genuinely be experienced and expressed in person."
If there's one common thread connecting nearly all self-care routines, no matter the person, place or time, it's tea. And for good reason. It's accessible and good for you, but it also has the ability to transport the drinker to a new headspace with merely a sip.
And if there's anyone who knows how true this is, it's Lindsey Rae, co-founder and brand director of LUCID Tea. After years spent traveling the world collecting tea, she turned her hobby and passion into a dream job: crafting gorgeous, organic tea blends to support every part of a drinker's life.
How did LUCID Tea get started? What inspired you down this path?
The path of tea started at a very young age. [My] mom would sometimes work in the local health food store in our hometown and she would bring tea, supplements and other wellness products home for us to try, so there was always tea around the house, and I enjoyed drinking it thereafter.
Around 2007, I started working at Teavana and my true obsession began. That evolved into working with and training folks nationally and internationally. The obsession was not just professional but also personal as I began to travel to different tea-growing regions in the world and collected tea from my travels.
After living and working in Dubai for a year, I moved back to Nashville at the end of 2013. I was trying to decide my next big move when my sister (and future business partner) asked what my dream job would be; I said I wanted to create my own brand of tea. LUCID really started to materialize in 2015, and we launched online summer 2016. 
Why did you choose tea as your medium of choice?
It's a passion that allows me to express multiple facets of who I am: artist, epicure, mystic, educator, casual cultural anthropologist. It has and continues to give me the privilege of meeting amazing people all over the world. And it's something folks can relate to and take pleasure in.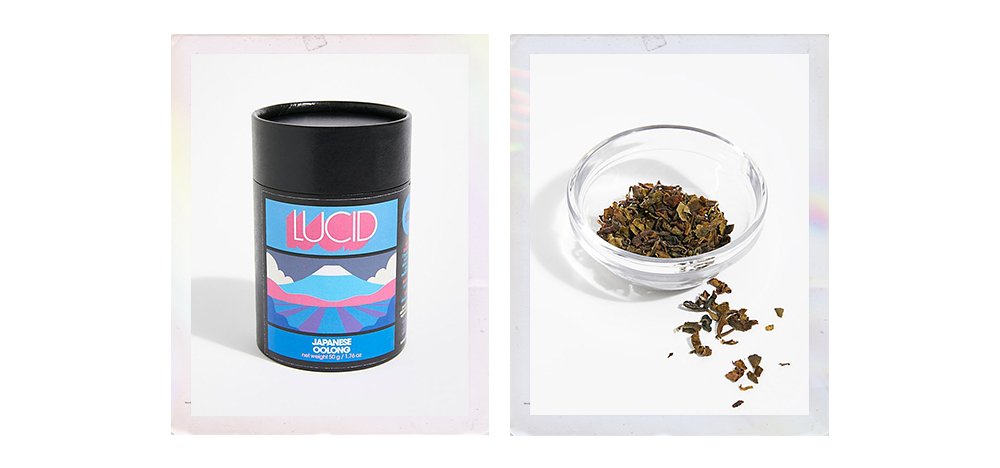 You work directly with local growers to hand-pick teas. How does this interaction with and knowledge of the growers, their process and their product impact the final LUCID Tea product?
For me, traveling to meet our growers and seeing the sources is not optional. The people and places our teas come from must have good vibes and it's important to be able to reciprocate those good vibes and express gratitude to ours growers for sharing their passion and products, something I feel can only genuinely be experienced and expressed in person.
The energy of the people and places live through the tea and are received by anyone who drinks LUCID tea. LUCID is not simply a commodity, but a manifestation of cumulative experiences delivered in a delicious beverage.
In addition, traveling to the sources has allowed me to sample a wider range of the growers' offerings, develop custom blends, and procure more rare/unique/higher-quality goods.
Your packaging is recycled and recyclable — why was it important to you to incorporate this into LUCID?
We strive to positively impact the palate/body/mind/spirit. We also strive to make the lowest impact we can on the environment. It's a process but when we began, I knew I wanted to package the tea in a durable, recyclable container, and I had zero interest in bringing more metal tea tins into this world. That's why we chose our cardboard containers, which are made in the USA from recycled material. They're durable enough to travel and can be reused and/or recycled. 
We also encourage folks to compost their tea leaves and, if you're using LUCID tea filters, those are also compostable, plant-based, biodegradable and chlorine-free. As we evolve as a company, sustainability will remain a priority and we will continue to integrate it in all that we do.
Can you give us a primer on tea tasting notes? What should someone look (and taste!) for when buying and drinking tea?
Honestly, I drink tea first because it is delicious. My palate has evolved over time and I have grown to love a wider range of teas, but still I always want tea to taste good. Drinking tea should be a pleasure; it doesn't have to require an extensive tea tasting vocabulary, knowledge or a super refined palate. Maybe just think about how a tea makes you feel when you taste it and who you're sharing it with, or appreciate it as a reflective moment of solitude.
When buying tea, consider what kind of flavors you generally enjoy: fruity, spicy, nutty, vegetal, floral, smokey, etc. Those [flavors] can translate to tea, whether you choose flavored or pure, unflavored tea from the tea plant, camellia sinensis. For teas I consume frequently, I look for organic tea (LUCID tea is organic because we want folks to drink it every day), but whether or not a tea is organic is not a deal-breaker for me. I prefer loose-leaf tea because it's typically higher quality and more delicious. Sexy packaging is a plus.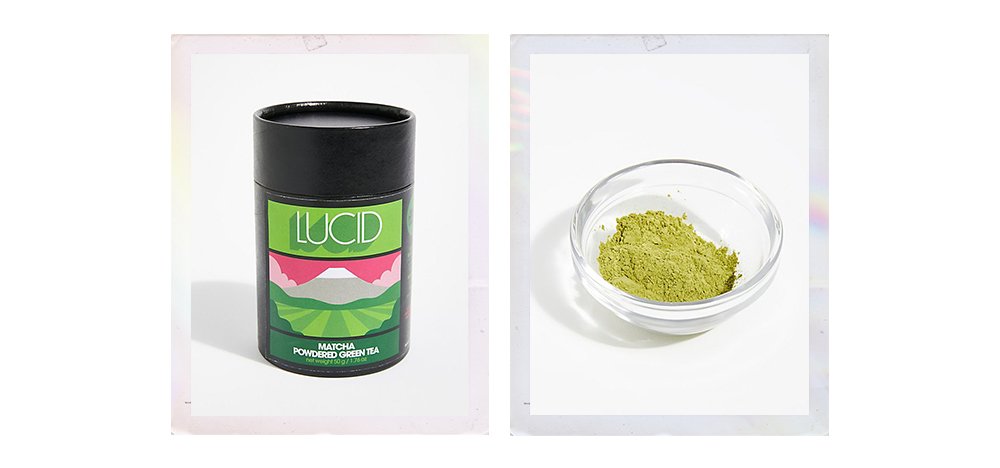 I'm sure it's hard to pick a favorite, but what tea do you find yourself reaching for over and over again?
Yeah…it is hard to pick a favorite. It depends on my mood and the time of day. Our first signature blend, cardamom coconut vanilla black tea (inspired by my time living in Dubai) is probably my favorite daytime tea for a little caffeine and a lot of deliciousness. Our rare Japanese oolong is my favorite for afternoon/after dinner for digestion and light, floral dreaminess. And our colours of tea culture – organic hibiscus herbal blend is my current nighttime go-to because it is naturally caffeine-free and contains botanical elements that correspond with each of the chakras to harmonize and balance — makes for a perfect way to end the day. My sweet sister's current favorite is our turmeric herbal blend for its anti-inflammatory, digestive, antioxidant and adaptogenic support. 
What's your favorite way to incorporate LUCID Tea into your daily life?
I drink a cup of LUCID matcha every morning. I'm not a morning person, so it wakes me up, warms me up and gets me going. I also love starting my day with such a nutritious, beneficial beverage.
How do you practice self-care while running a business?
I am also a Pilates/flexibility/aerial instructor, so I make time for self-practice in these movement modalities when I can. Movement and dance are meditation, self-expression and great forms of self-care for me. I also allow myself days to rest and time to be alone. I try to eat food my body likes and that makes me happy. I make time for family and friends, burn all the incense, and listen to my favorite hip hop artists. Balance is key.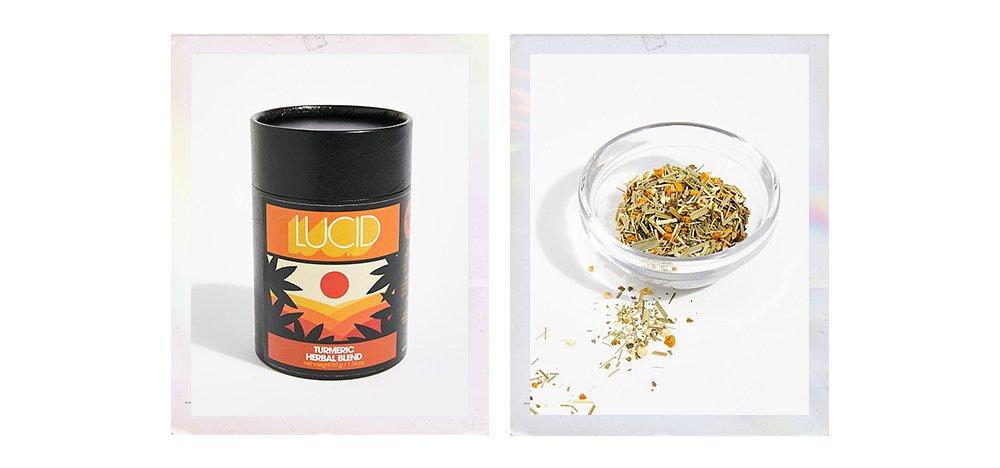 What tea would you recommend to someone who is stressed? Tired? Under the weather?
For someone who is stressed, I would recommend LUCID turmeric herbal blend. It's inspired by Ayurveda and is thoughtfully composed of synergistic botanicals:
Turmeric: anti-inflammatory, antioxidants
Ginger: anti-inflammatory, digestive support, pain relief
Lemongrass: anti-anxiety, immune system support
Gotu kola: anti-anxiety, anti-inflammatory
Black pepper: anti-inflammatory, enhances bioavailability of other botanicals
For someone who is tired, I would recommend matcha. It can boost energy and mood, increase mental focus, support post-exercise recovery, and aid in detoxifying the body.
For someone who is under the weather, I would suggest turmeric herbal blend for all the reasons listed above (plus the fever-reducing, throat-soothing, cold-fighting properties of lemongrass) and/or Sri Lankan silver tips white tea for its antioxidant content and antiviral/antibacterial properties.
What's your favorite self-care ritual?
I have been following Ayurveda for six years and having a daily routine (dinacharya) has transformed my life. Of these rituals, meditation, movement and nasya (herb-infused nose oil) are some of my favorites. I have also been making face masks with LUCID matcha and Sri Lankan silver tips white tea recently, choosing recipes and blending them according to what my skin needs that particular day. And now that it's warming up, I look forward to spending time diggin' in the dirt at the Brooklyn Heights Community Garden.
What does "wellness" mean to you?
Resilience, kindness, patience. Flexibility in body and mind. Drinking tea and water. Taking care of yourself. Supporting others. Working for the liberation of all people.