Chilling in the water can restore your mind — and make your body glow. Here's all you need to know to curate your ideal summertime soak.
Taking a long soak in the tub is often a beauty ritual we reserved for the wintery months. And yet bathing in summer can be just as good for your body — and, in fact, deeply detoxifying says Jenna Coviello, the founder of Take Good Care, a service that offers personalized wellness consultations. "I do love a cooler soak when the weather is very hot," she says. "It relaxes and cools down the body and mind and helps relieve bloating, inflammation, and sunburn." Depending on what you add to the water, you can target different issues. "Epsom salts and body oil is a really simple combo that exfoliates, detoxifies, reduces bloat, and relieves muscle pain," she says. And a drop of essential oil goes a long way whether it's "lavender before bed" or "eucalyptus for congestion."
Baths might also be your easiest form of summer self-care. "I love the ritual and relaxation of it," says Coviello. "The ability to completely shut off for 20 to 30 minutes. A shower always feels a bit rushed  —but a bath is such a luxury." (And FYI: baths use less water than showers). Here, the wellness guru gives her personalized guide to meditative summer soaks.  
Pick Your Purpose.
"My ideal summer bath routine is all about detoxification, exfoliation, and hydration," says Coviello.
Step 1: Set Your Intention (and the Mood). Coviello likes to light the sandalwood Mama Moon Candle, draw a slightly warm bath, and add the Pursoma Digital Detox Bath salts "to detoxify my body from EMF [electromagnetic field] radiation and my mind from digital overload."
Step 2: Dry Brush First. "Before getting in the bath, I dry brush my whole body, which stimulates blood flow, circulation, lymphatic drainage, and deeply exfoliates dead skin."
Step 3: Mask It. Next, she slathers on a face mask to soak up the benefits while she's chilling in the tub. Her go-to: "The Captain Blankenship Mermaid Detox Face Mask — the matcha is soothing and brightening and the clay and seaweed pull out toxins and gently exfoliate, yet hydrate the skin."
Step 4: Do a Cool Rinse: "After soaking for a while, I like to drain some of the warm water and add in cold water for a cooler soak — it feels really refreshing and helps with bloating." She exfoliates again, this time with Linné Activate Body Wash, which has a combination of Dead Sea salt, volcanic ash, and activated charcoal to purify and exfoliate (and as added bonus, "the eucalyptus scent is awakening and calming — it's especially nice first thing in the morning," she says if you opt for an a.m. soak).
Step 5: Hydrate: "Finally, I get out and remove the face mask with a warm muslin cloth," says Coviello. On damp skin (skip the towel dry), she applies "my favorite body oil ever, Everyday Oil, from head to toe." Not only does her skin look radiant, but Coviello says she feels totally recharged after a bath. "It connects you with your physical body during a season when you're showing more skin," she finds. Consider this the ritual we all need right now to "pamper skin and give it a little extra love."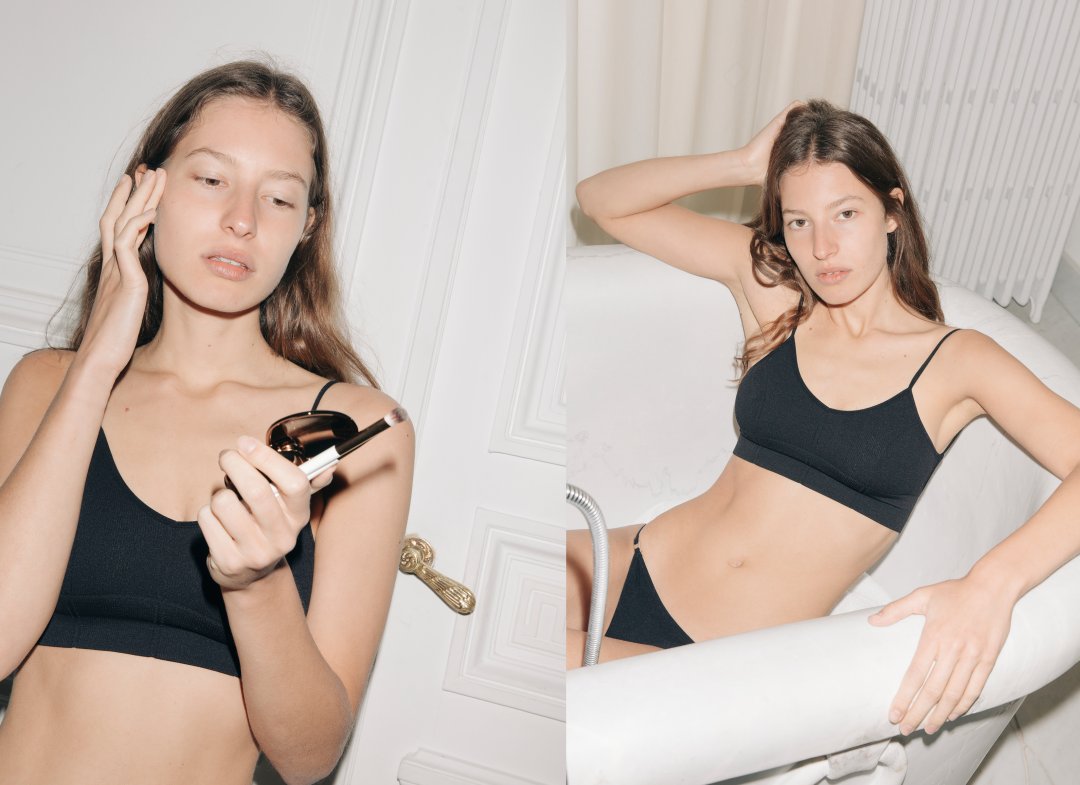 + What's your favorite bath ritual? Share it with us in the comments!