From swimwear to cocktail dresses, nobody does feminine and sexy like For Love & Lemons.
They met as children in Wyoming, became fast friends and, together, built a world-renowned brand that continues to expand. We asked Laura, one half of the dynamic duo, to allow us a peek into the dreamy world of For Love and Lemons, tell us how things got started and what life is like in the beautiful world she created with her best friend Gillian.
I read that the origin of the name For Love & Lemons stems from a lemonade stand you two had in Wyoming. That's such a lovely story — can you tell me more about how the two of you met?
We met in Jackson Hole, WY in grade school when Laura had just moved to town from Minnesota. We had an instant connection, it was like we were waiting for each other our whole (youngin') lives, hehe. We became attached at the hip; besides always hanging out together, we were also always scheming up ways to make money. So not only did we sell lemonade, but we made sagebrush perfume, painted rocks, etc. So we joke that we have been in business together since our lemonade stand days.
What brought you to start your own clothing line?
Both of us naturally gravitated towards the fashion industry; right out of college we began working at different fashion labels. After learning the ropes of the industry, we became more confident that we had a unique and special vision for what our brand could be and then we decided that we should just take the plunge. We started off sewing samples in our basement and saving up our tip money from our waitressing jobs, and then once we had enough to show, we started going to trade shows, writing orders and finally gaining some momentum to keep on designing, selling and growing!
What are your roles? How do you two compliment / contrast one another?
Gillian is the Head Designer and Creative Director, while I (Laura) am the CEO. That being said, we both dabble in each other's roles every day — we share an office so all of the decisions we make are made together, but ultimately Gill is the creative side and I do more of the books. It's been really effective for us to get each other's opinions on something because it enables us to see all of our high-level decisions from both a creative and business perspective. It's a good balance!
How does your hometown of Jackson, Wyoming influence your designs?
I wouldn't say it influenced our designs as much as it influenced our thinking. Growing up in a small town like that really made us strive to get out (of course now we just want to go back, hehe). It also made us a little naive — we didn't really know what we were getting ourselves into and how hard it was going to be, but in the end, I think that helped us because we just jumped right in and worked our hardest. People at home use to always ask us "When are you getting a real job?". No one really believed in us ( I mean we were surrounded by real cowboys that wore Carhartt's with actual cow dung on them). There was not much fashion where we grew up, but that is why we loved it so much, and why we wanted to finally be a part of something that didn't happen there. We were passionate and motivated and had nothing to lose at that point, so we gave it our all.
What does a typical day look like?
Every day is totally different! One day we're on location for a campaign shoot, the next we're in marketing meetings, fittings or tradeshows. There really is no typical day here!
Proudest moment for the company so far?
It's really hard to pick just one moment because every time a new celeb wears something it's really fun to see, or if we spot our clothes in movies, but honestly every time I see a girl out and about in our clothes that makes us so giddy and proud. There is nothing more exciting than seeing your clothes in the real world. I remember sitting down at a restaurant and seeing a girl sitting next to me in FL&L for the first time and it was honestly THE BEST.
Favorite corner in your office and why?
I would say both of our newest favorite corners in the office is our nursery! :) We both just had babies, so we created a little nursery next to our office for our little ones so we don't have to be without them at work! And I love love our entire downstairs space. It is where all the creative stuff happens. Where we make patterns, do fittings, have design meetings. It's where all the designs come to life — it's so fun to watch it all unfold.
What helps you stay inspired and excited?
We always joke that we will run out of ideas one day, but it hasn't happened! As our business matures, so does our knowledge and design. We learn how to create new trims, fabrics, sewing techniques, etc.. so the more we learn, the more we explore and the more ideas come to us and that is what inspires us! I can honestly say 90% of the time we are inspired and excited. We created this business because we love to do it, and we haven't stopped loving it!
What are you most excited about for the upcoming year?
For the first half of 2018, we were really excited to open our first-ever pop-up shop on La Cienega Blvd. For the second part of 2018, we're excited to release our new Fall and Holiday campaigns to the world. We poured so much love and effort into these collections — we truly think these will be our best collections to date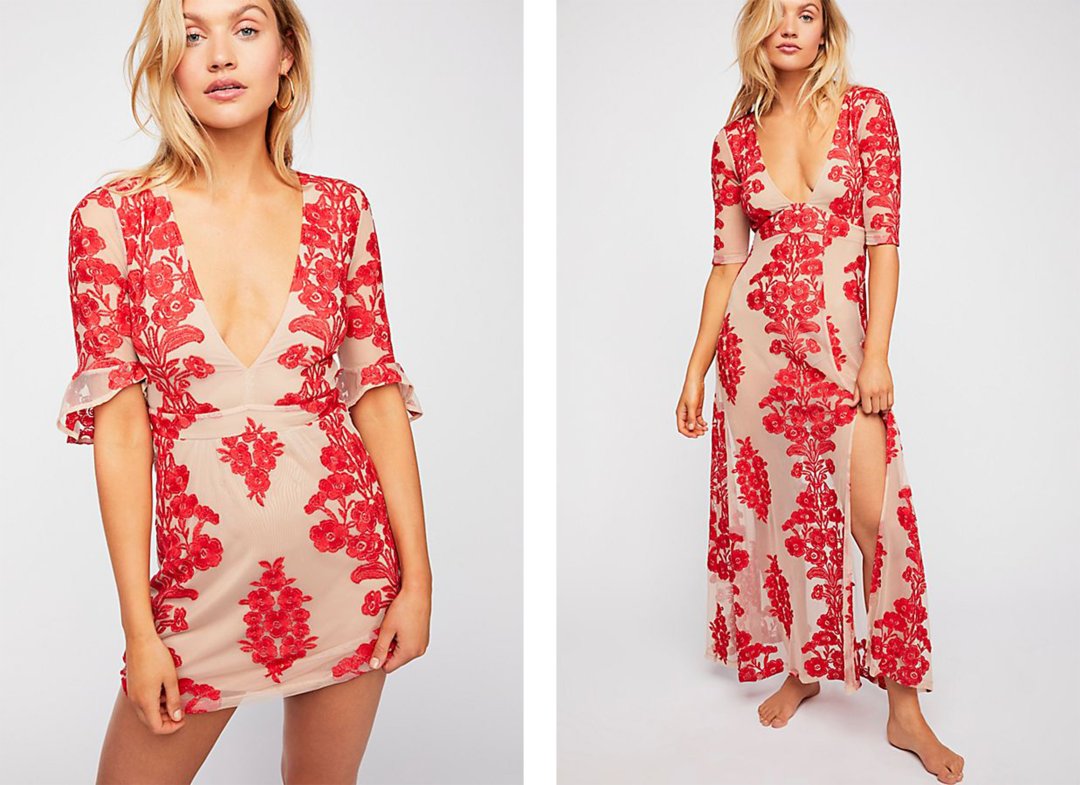 Our most recent For Love and Lemon pieces, exclusively at Free People.
+Shop all For Love & Lemons on FreePeople.com  here.  
Follow Patrizia on Instagram.