When we think of the great outdoors, especially white beaches kissed by bright blue waters, we think of our friend Mona Jane, the beautiful and super active mother living out her dream life in Hawaii. 
With a surfboard secured under her arm, dressed in FP Movement, and her little Roca trailing along, Mona Jane has seen plenty of gorgeous beaches. We asked her to share a snapshot of the one that's closest to her heart, and to tell us the story behind it. Here's what she had to say…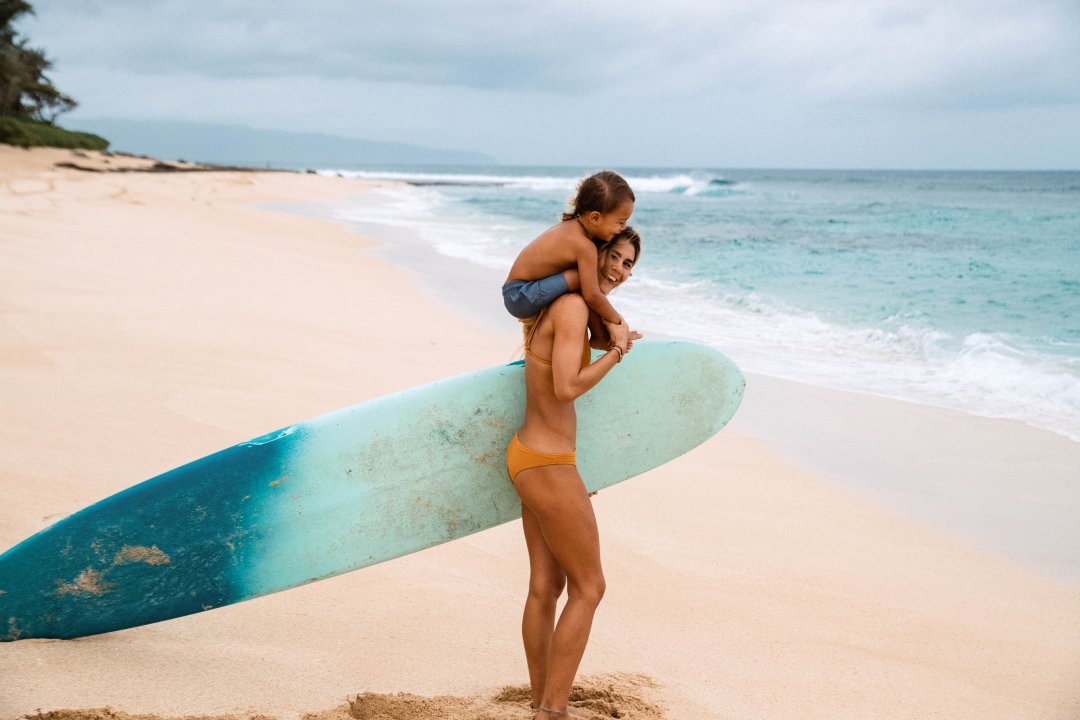 WHERE WAS THIS PHOTO TAKEN?
The "Seven Mile Miracle" aka North Shore of Oahu, Hawaii, is definitely a favorite place of mine, and happens to be where we live. It is called that for a reason — the beaches are simply incredible, with some of the best waves in the world.
WHY IS THIS PLACE SPECIAL?
For a few reasons. I dreamed of Hawaii my whole life, and this is the first place I ever visited and absolutely fell in love with at first sight (for obvious reasons). I also met and fell in love with my husband here, doing all the very things I've mentioned. I started surfing here, which has become a huge part of our lifestyle. And most special of all, we began our little family here, raising our son with endless outdoor fun at our fingertips.
WHO ARE YOU WITH?
This photo of Roca and I is taken by one of my good friends whom I met surfing.. and stands as another reason why this place is so special — all the epic friends, talented kind people, community and connections that we have made here. We woke up early with the sun and were playing around on the beach before heading out to surf.
FOR ANYONE WHO WANTS TO VISIT — WHAT ARE THE BEST THINGS TO DO THERE? 
There is so much to do! From surfing, paddle-boarding, quick lush green hikes with gorgeous views of all the blue hues of the ocean, waterfalls, fresh local fruit stands, snorkeling, bike riding, skating, reading under coconut trees and watching a canvas paint across the skies as the sun sets. Just all things fun and outdoors, which is our favorite place to be. Without a doubt such an amazing place to raise children, in Mother Nature's playground. Spend more time outside than in! Make the most of the natural fun without the need to spend crazy amounts of money on "tourist attractions." There is something for everyone and every age — explore while the sun is out and save the shops for after sundown.
Follow Mona Jane on Instagram.
Follow Patrizia on Instagram.