"I don't really have a specific style icon but I'm constantly inspired by the people who work here. Everyone has such unique style and I love seeing how people put outfits together."
Your position at Free People…
Assistant Design Coordinator for the Intimates team.
Describe your personal style…
I would say my style is girly (but not too girly) and simple with a sprinkle of boho.
What makes you feel confident?
Being tan! I love the fresh off-the-beach/sun-kissed look.
Who is your style icon?
I don't really have a specific style icon but I'm constantly inspired by the people who work here. Everyone has such unique style and I love seeing how people put outfits together.
Favorite part of your job?
I love that I get to work with different teams every day — design, buying, PD, tech, and production — so it's a great learning experience. I find it really interesting to see what role everyone plays in producing a garment. Also, I absolutely love everyone I work with. My team has always allowed me to be really involved from the very beginning which I really appreciate.
What are your beauty + wellness must-haves?
In terms of wellness, my number one thing is to drink plenty of water! Staying hydrated makes a huge difference in the way you feel.
What do you do outside of Free People?
I write for an online sustainability blog called Green Philly. I've always really enjoyed writing and interviewing, I did a lot of both in college, so when this opportunity came about I was excited to get back into it. Other than that, I try to travel whenever I can. I love exploring new places, experiencing different cultures, and meeting new people. The world is so big and has so much beauty — I want to see it all!
One thing in your closet that you could not live without is…
My dad's Levi's denim jacket from the 80's.
Your favorite (upcoming) trend…
Sets! I also love this fun hair bow thing going on.
The soundtrack to your life…
Kaleo and Chvrches are two of my favorites at the moment, but I listen to just about everything. My dad raised me on blues and rock and roll, my sister introduced me to pop punk when I was a pre-teen, and my boyfriend is obsessed with metal (so I'm forced to listen to it sometimes). I'm also a sucker for a catchy pop song. To say my Spotify has an eclectic mix of music would be an understatement.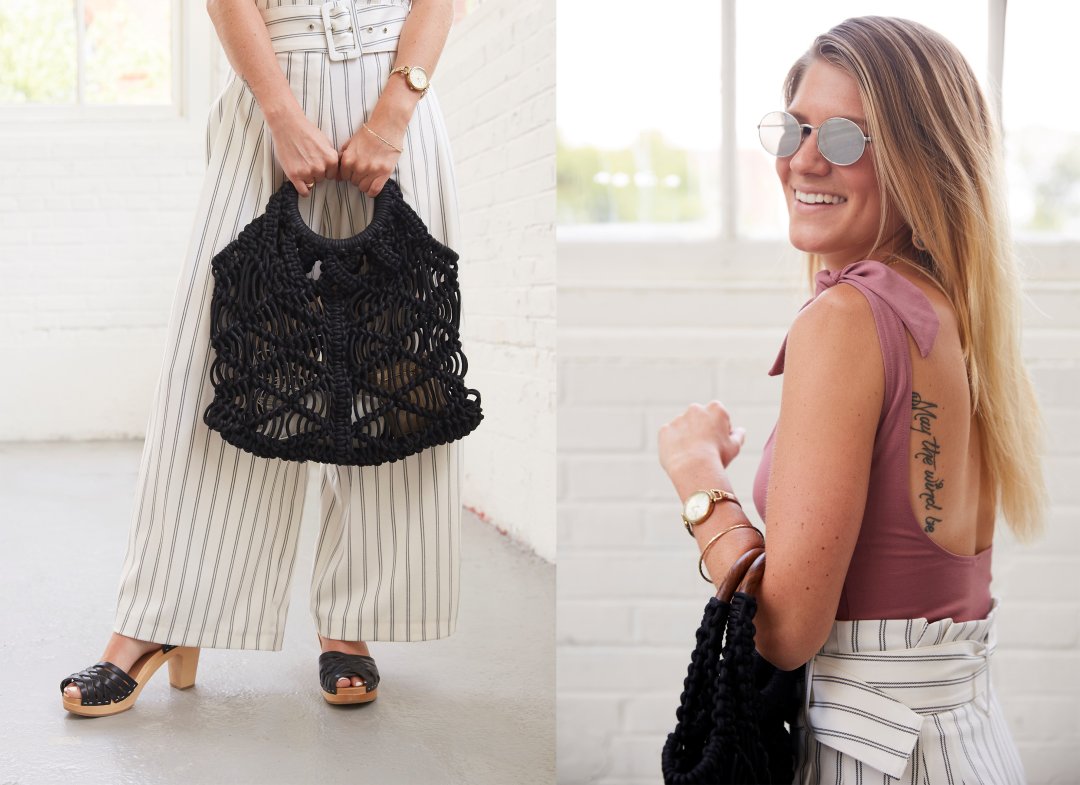 What's in your freepeople.com shopping cart? 
Jojo Set 
A Little Tied Up Cami 
Rose Garden Top  
Wanderer Stud Flat 
Wales Wide Leg Jeans 
Isola Midi Dress 
Makin' Waves Bodysuit 
Desiree Linen Pants  
Follow Lindsey on Instagram and shop her look today!
+ Loving Office Style? Meet more of the Home Office employees here!
Follow Patrizia on Instagram.