Focusing on giving your skin a gentle nudge to rejuvenate and regenerate itself, Janaury Labs calls it 'Repair–Treat–Repeat'!
Something stuck with me well after speaking with Kathy Schofield, CMO at the skincare company January Labs: "Wellness and beauty are not a trend, but rather a statement on health." 
In this market of quick-fixes and hopping from one cool train to another cooler train, a remark such as this made me stop and consider that January Labs is the real deal. Read on to learn more about their philosophy to getting — and keeping — a glowing you, as we interview founder January Olds.
Your zodiac sign:
Scorpio – water, water and more water!
Tell us about the day you decided to pursue your own line.
Skincare has been an obsession since I was a young girl so it wasn't one moment that made me decide. I've been working toward this all my life. 
Talk to us about January Labs' philosophy.
We think healthy, glowing skin is the best fashion statement anyone can make. When your skin is glowing, it's a reflection of your overall health and wellness and it means you're not constantly battling with breakouts, dryness, dehydration, redness, inflammation or premature aging concerns. You can actually go out into the world without worrying about covering up problems!
For instance, if you want to take care of your heart and lungs, you don't smoke. If you have digestive problems, you adjust your diet. Those are easy concepts to understand. But interestingly, we don't always apply the same logic when it comes to taking care of our skin. It's easy to get caught up in trends, fads or complicated regimens that can actually harm the skin. Adopting a healthy diet, drinking tons of water and incorporating a simple skincare regimen for optimal skin barrier function are the real keys to better skin health. We are focused on putting healthy, glowing skin into our bottles!
Talk us through some of the ingredients found in your products — what makes them unique/special?
All of our ingredients support one another in their pH-optimized formulations. So it's not just one star ingredient that makes a product effective — it's that certain ingredients and the percentages they are present in a formulation amplify the effect of other ingredients and help them activate each other. Some of our favorites are lactic acid, hyaluronic acid, beta glucan, squalene, peptides, fruit extracts and witch hazel to name just a handful. All of our products focus on helping to heal, protect and build the skin's essential stratum barrier so the skin is always getting a gentle nudge to rejuvenate and regenerate itself. We call it 'Repair–Treat–Repeat'!
What does your personal beauty regimen consist of?
I like to keep things simple. I have pigmentation issues and the things going on in my life tend to show up on my face, so I pay attention to what my skin is telling me and make little adjustments as needed. In general, my routine starts with our Pure & Gentle Cleansing Gel followed with Moisture Renew Mask, and then I mist with our Restorative Tonic to finish in the morning. I usually do this before yoga or pilates.
When I am finished with my workout, I cleanse again and apply our Revitalizing Day Cream, Advanced Eye Technology and seal it in with our Moisture Renew Mask.
In the evening, I cleanse with our Pure & Gentle Cleansing Gel, apply Retexturizing Night Cream and Advanced Eye Technology.
 Best and worst piece of advice you ever received?
The worst: To hire an "expert" when I first started January Labs.
The best: To listen to my gut and go with my instincts and intuition.
 Top 5 go-to tips for good skin:
A proper cleanse.
Exfoliation the right way (yes to lactic acid and fruit enzymes, no to harsh scrubs).
Constantly rebuild the skin barrier (mist all day).
Maintain a healthy diet.
Tons of water.
What keeps you happy and stress-free?
Morning and evening walks with my goldendoodle Boomer, hot yoga and pilates, having friends over for dinner. I love cooking and I love to bring people together. Sunday nights are the best for gatherings – it's the best way to start the week ahead. I recently started meditating daily and doing a 5-minute journal, and I definitely recommend both! 
Healthy habits from an early age…
We live in a time of intense concealer, contouring and lots of Photoshopping. Sometimes I look at Instagram and I am amazed by the new ideas of "beauty." I want to stress the importance of natural beauty and being your best self rather than succumbing to the pressure to be perfect.
What's your go-to meal?
I truly love healthy food. One of my favorite meals is a macro bowl with loads of veggies, kimchi, brown rice, sweet potato and adzuki beans. I also love cucumber and celery juice (great for the skin, too)!
If January Labs had a soundtrack, what songs would we hear?
The songs would be all over the map…. Definitely Fleetwood Mac, Florence and the Machine, Daniel Caesar, Fiona Apple, and any song from the Hamilton soundtrack (I am a nerd and I am obsessed with the music).
Your personal mantra:
Try to see everything through a lens of love and then make decisions from there. 
What can we look forward to from January Labs?
In the fall, we are planning to launch a 3-in-1 Retinol product that combines retinol, niacinamide and vitamin C. We have become known for our addictive toners and in the process of developing a probiotic toner as well. And, we have some new travel sizes on the way.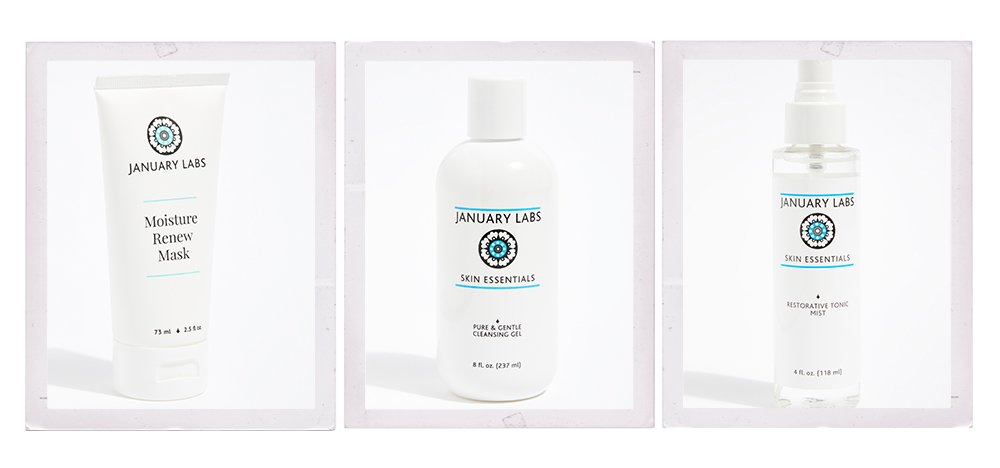 Shop January Labs here.