We continue our series on empowering women with Holly Thaggard, whose commitment to feel-good SPF has all of us singing her praises WHILE wearing Supergoop!
Tell us how Supergoop! came to be? Was it a need in the market, a product of self-discovery or self-change?
When a close friend of mine was diagnosed with skin cancer in our early 30s, I set out to learn everything there was to know about sun exposure. What I found was that skin cancer was the most common type of cancer in the US, and that it was primarily preventable with daily SPF. But no one wanted to wear it because it didn't feel good — and on top of that, sunscreen was a sleepy category. So I got to work from there!
What is it about being a woman that makes you most proud/empowered?
After our daughter, Emery, was born, my mother-in-law shared with me an interesting and empowering perspective on parenting that I often reflect on. She told me that our primary job as mothers is to make decisions along the way that would help our children be independent and self reliant. In other words, it's not a good idea to do everything for, or with, your children — our job is to make sure they don't need us to survive!
My role at Supergoop! comes with a pretty packed travel schedule, so during the weekdays I often hear about our kiddos via FaceTime. It makes me so proud when I hear how they handle things that come up when I'm away. For example, Emery is now 13 and she recently called her orthodontist to schedule her next follow-up visit (and then gave heads-up to our nanny that she needed to be driven). These simple independent moments make me so proud.
Tell us about the greatest triumph ​and​ challenge you've faced as a female entrepreneur?
Lots and lots of small wins along the way are what fuel and inspire entrepreneurs to continue down the nontraditional curvy path of entrepreneurship. Our greatest challenge along the way has been in convincing the world to change the way they think about SPF — after all, UVA rays are present in equal intensity 12 months a year.
We've done this through something I'm super proud of: product innovation — the real foundation of Supergoop!. We're continually building SPF products like Defense Refresh Makeup Setting Mist and our new mineral primer, Smooth and Poreless Mineral Mattescreen SPF 40. These are beautiful products that are easily incorporated into everyone's daily routine, every single day.
While we still have a lot of work to do, I think our greatest win is in product development, which is directly related to the role we have played in deseasonalizing the suncare industry. I'm most inspired today by the mindset of today's younger generation on skincare and overall wellness. This is THE generation that shares my mission of never getting a sunburn and believes in taking care of their skin from the get-go vs thinking about anti-aging and corrective products. This younger generation today is making wellness a part of their lifestyle, and SPF is the single most important part of that.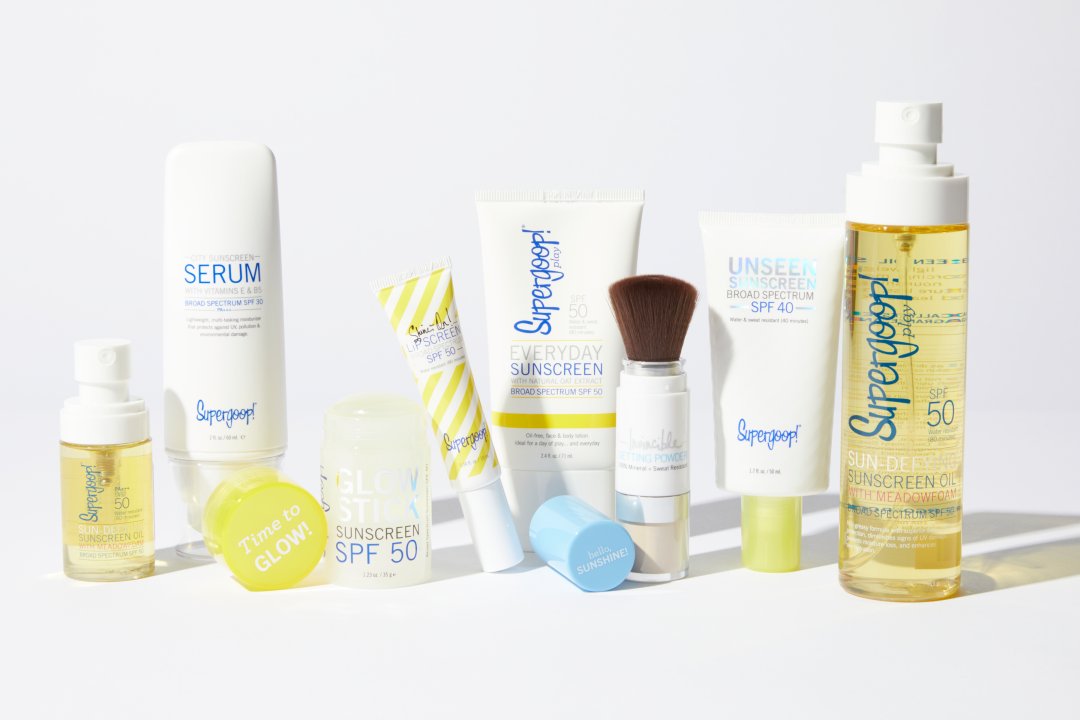 Your greatest superpower…
Slipping SPF into everything! No, but really, I kind of do consider this a superpower, because we've been able to infuse your favorite beauty products with SPF, so that it's fun and easy to wear, every single day.
If Supergoop! had a soundtrack, what 5 songs would be included?
Vance Joy's "Saturday Sun", The Beatles' "Here Comes the Sun", Coldplay's "Strawberry Swing", The Cure's "Friday I'm In Love", Imagine Dragon's "On Top of the World"
Best and worst advice you were ever given…
I've always seen a very clear path in creating a fun and playful lifestyle skincare brand, with a foundation built on product innovation. After all, if we want to stop the epidemic of skin cancer we have to deliver on clean, healthy and beautiful product that people will want to apply 365 days a year, so generally speaking, I try to trust my instincts but I am definitely not afraid to ask for help. Which brings me to best advice…
The best advice I've been given along the way has always come from my husband. From day one he was wildly supportive and a huge advocate of my vision — he always encouraged (and sometimes forced!) me to seek out and find the help that I needed. Initially, this just meant hiring college interns to help pack boxes so that I could work on bigger ideas and better product but, as our brand has grown, it has really shaped the way I think about my role as a brand founder and how important finding the right help for all of the other responsibilities that come with a brand experiencing major growth.
The worst advice is really easy for me — a venture capitalist guy once told me (and it was just a few years ago!) that I should seriously consider changing our brand name! Obviously, our greatest strength is in being different, and this includes our fun and playful brand name as well as our product. Nobody I know dreams and daydreams about SPF the way that I do! :-)
Your mantra:
Every single thing happens for a reason and you cannot allow yourself to be discouraged by reasons you can not yet understand because that would be interfering with your journey.
I studied in college to be an elementary school teacher and after one year of teaching in a traditional classroom I realized it wasn't for me. I recall being concerned that I had studied for and prepared for the wrong career. Fast forward to today — I realize I would not have seen the opportunity to create Supergoop! had I not reflected back on my time that year in the classroom where I never once saw a tube of sunscreen despite the fact children were outside on the playground during peak hours of sun exposure and after school in sports. And one of the things I'm most excited about today is our giving program, Ounce by Ounce. We're now able to fund putting Supergoop! in school classrooms across America.
+ Find Supergoop! here.