Did you know there is, in fact, a right and wrong way to dry your hair?
It's often said that success is born of necessity. Such marks the start of Aquis, when founder Britta Cox sought to develop an easy hair-care routine to suit her sports-heavy lifestyle. "Wash and Wear" became her reality and, today, she's sharing with you a little insight into how and why her towels could work for you.
What brought you to the realization that there is, in fact, a right and wrong way to towel-dry your hair?
A busy lifestyle is what lured me into the "wash and wear" movement — a quick towel-pat after the shower, and then my hair was left to dry on its own. I found, however, that regular cotton towels were heavy and didn't get the job done. It wasn't until I actually began my quest that I realized there is, in fact, a right and wrong way to dry your hair – because I learned that hair is most vulnerable when wet, and your drying technique is key to maintaining its integrity.
How you were able to test this?
I first needed to understand what happened to hair while wet, and then how it behaved when using a regular towel vs. a more performance-based fabric (which I engineered with the help of a fabric expert in Japan – and is now known as AQUITEX, the technology used in AQUIS). I would literally wet my hair in the sink and take a close look at what happened to each strand when wet. Then I would take both fabrics and test them against one another, as well as the impact each had on hair strands in terms of drying time and strength. I even tested my dog's hair strands!
What did you learn?
Through personal tests, I found that AQUIS dried hair faster than would a normal cotton towel. When I took this to the next level and started selling to other women, I learned that AQUIS offered additional benefits beyond just drying hair faster: many women commented that their hair styled better, was less frizzy, had less breakage and hair was shinier.
How are your towels produced? 
Our towels are produced using an innovative lightweight drying system made from ultra-fine fibers, split into strands thinner than silk and uniquely woven to create channels that quickly wick water away from the hair without snagging cuticles of causing friction. After the weaving process is complete, each product is finished by hand.
5 benefits to using Aquis!
Cuts drying time by 50%, better color retention, shinier hair, less frizz, hair is more manageable, AND an added benefit — you can do your 3-minute morning yoga while your hair dries without your towel falling off.
What is your company's spirit animal?
Snowy Owl – it's intelligent, flies under the radar and is never confused with any other because of its unique features.
What does the word "free" mean to you?
Never being trapped by your hair.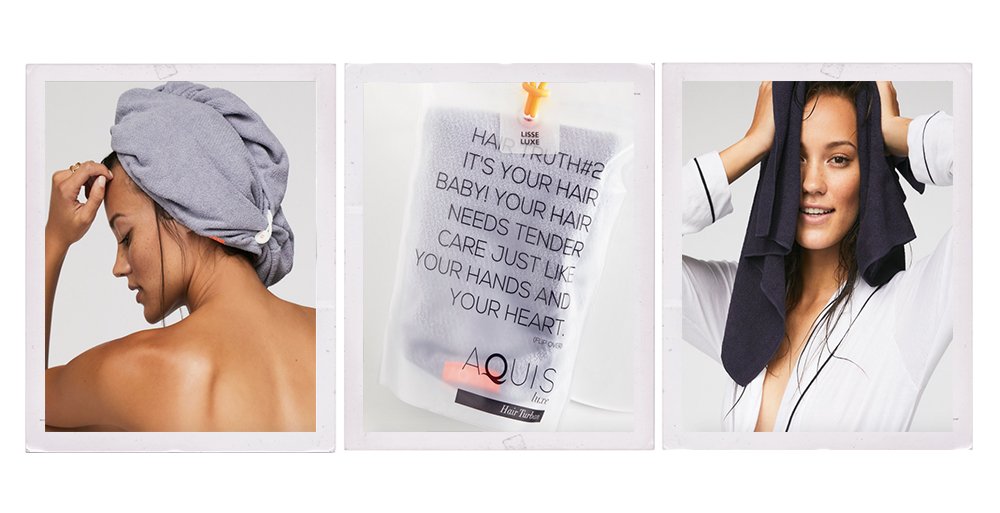 + Never experience another bad hair day! Shop all of AQUIS products here.