It's totally possible. And if you've been relying on one mask at a time, you've been doing it wrong.
You've just double-cleansed your face, took an excellent shower and now you're ready for Face Mask Time. Your pores are clean, steamed and primed for goodness. So you open your medicine cabinet/pull the shoe box out from under your bed/open all the drawers in your bathroom (no judgement — I keep my masks in the back of a closet to keep them cool and out of light, so c'est la vie) and spend a few minutes deciding with what to gift your skin tonight.
Your cheeks were feeling a little dry this morning so maybe a hydrating mask? But you're also starting to break out around your chin so maybe something with charcoal? And your forehead has been feeling oily for a few days, so maybe clay? Then again, you haven't exfoliated in a while so maybe you should go with a peel? In the end, you determine that of all your skin concerns, that oily forehead is the one that seems most prevalent, so you opt for the clay and call it a day.
As you spread the clay mask over your face, you hear the small, far-off voices of all the parts of your face say the clay isn't helping. Your cheeks, softly crying for a drink. Your chin, whimpering for some anti-blemish help. Your pores, quiety begging something to come along and clear them of dirt and grime. You want to help everyone equally, you really do, but how?! "Face mask" is singular, right? Sure, you can layer serums and toners and moisturizers to treat multiple issues, but how can you do the same with masks?
Spoiler alert: It's totally possible. And if you've been relying on one mask at a time, you've been doing it wrong. No fault of yours, of course — why would anyone assume they should use more than one? — but now that you know, it's time to remedy the situation.
As I'm sure you know by now, your skin is a multifaceted being with unique wants and needs depending on the part of the fact, the time of day, the weather, your mood, etc. If you've never experienced an oil rig-like forehead and T-zone while simultaneously feeling like your cheeks were Sahara-level dry, you're in the minority. For everyone else, multi-masking is your friend.
There are a couple of approaches to multi-masking and I invite you to choose your own adventure based on your needs and how much time you have. I prefer the latter of the two, but do your thing.
OPTION #1: The Layer-N-Wash
Pretty self-explanatory, this one involves using multiple masks in a row, one after the other. If your skin is generally well-behaved and fairly one-note in terms of its needs from area to area, this is a good option. It's also a lot like what aestheticians do if you've ever had a professional facial done, since it's basically prepping the skin for what comes next.
To start, use an exfoliating mask to remove dead skin and draw out impurities. If you like a chemical approach to exfoliating, try the Organic Enzyme Exfoliating Mask from Dr. Alkaitis — the active enzymes in the formula work to gently remove cellular debris as they sit on the skin. For something that requires a bit more muscle, One Love Organics' Brand New Day Microderma Scrub & Masque gently smooths skin with corn starch and pea flour. Once your chosen mask is applied, lay a warm, damp washcloth over your whole face to warm everything up. When the cloth is cool, use it to gently wipe the first mask off, then dab your face dry.
Mask number two should be one that tackles pores and blemishes. Now that dead skin is out of the way, and your pores are nice and open, get in there to detoxify and refine your skin's texture. Look for a mask that contains charcoal or clay, both of which are powerful detoxifiers, and can help pull even the most stubborn gunk out of your pores and absorb excess oil. Both the Detox Facial Mask and Reborn Facial Mask from Root Science check these ingredient boxes. Leave this one on for five to 10 minutes, or until it starts to feel tight, then rinse it off. Towel dry and move on to mask number three.
To finish, you'll want to use a hydrating mask to make sure your skin isn't thirsty after mask number two. Replenish that skin water! A mask with ingredients like aloe (Modern Natural's Soothing & Hydrating Treatment Mask), hyaluronic acid (the Antiaging & Moisturizing Organic Mask from Orgaid) and rosehips (Pai's Rosehip BioRegenerate Rapid Radiance Mask) will plump, hydrate and glow-ify your skin in this final step. Wear this third mask as long as you want — it's just rehydrating your skin, something you can't really overdo. When you're ready, rinse, dry and apply your favorite serum and/or moisturizer.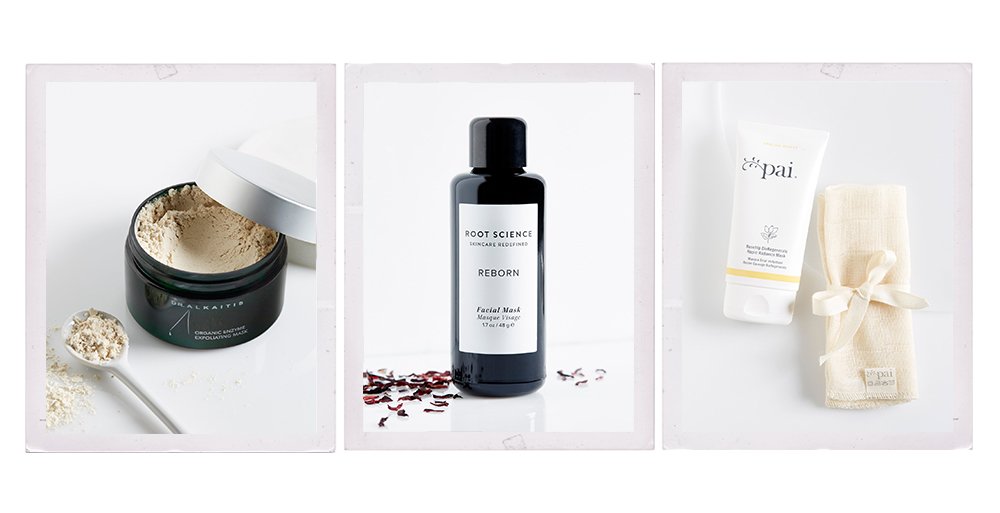 OPTION #2: The Picasso 
This approach to multi-masking is a bit more nuanced, only because it really leaves the whole thing up to you. The idea here is to apply different masks to different parts of your face at the same time. Think of it like makeup: you apply lipstick to your lips, eyeshadow to your eyes, blush to your cheeks, etc. Except now, you're interpreting what certain skin needs and using a mask specific to that need. It's like colorblocking but for your face…with masks.
Again, we're going to start with light exfoliation to prep the skin. You don't have to use an exfoliating mask here if you don't want to. A simple face scrub will do the trick and cut down on the time this whole process takes. Once you're clean and smooth, the fun starts.
Think about your face. Do your best to divide that beautiful mug into different sections based on how your skin feels. Maybe your forehead looks dull and your nose is breaking and your cheeks feel dry and your chin is oily. Now you've got four "mask zones," and it's time to get to work.
For skin that feels dry…feed that face! You'll need uber-hydrating ingredients for dry patches, so be on the lookout for rose, hyaluronic acid, aloe and witch hazel. Try: Mieux Derma's Wandering Dusk Hydrating Syrup.
For skin that feels congested and oily…you'll want a mask that utilizes the pore-unclogging power of bentonite clay. Not only will this stuff power-wash your pores, it also increases blood flow so you'll have a nice glow afterward. Try: Biodara's Creme De Clay Purifying Mask.
For skin that looks dull…opt for a brightening mask full of enzymes and other natural acids that can help to chemically exfoliate dead skin away. Try: Juice Beauty's Green Apple Peel.
For skin that feels rough…another chance to exfoliate with acids and gentle, physical exfoliants like beans and honey. Just note here that after applying, you'll want to gently rub this portion of the mask every few minutes to actually do some physical exfoliating. Try: Pangea Organics' Facial Scrub.
For skin that's inflamed or angry…you'll want soothing ingredients like chamomile, aloe and green tea to calm whatever redness and irritation you might be experiencing. Try: Dr. Alkaitis' Organic Flower Mask .
Alright, now your masks are strategically applied and you can kick back and relax. If anything starts to feel tight or like it's drying, spritz the area with a gentle mist like Miss Violet Lace's Rosewater Mist. After 10-15 minutes, gently wash everything off with warm water and a damp cloth if necessary. Apply your favorite serums and moisturizers, and go on your merry way.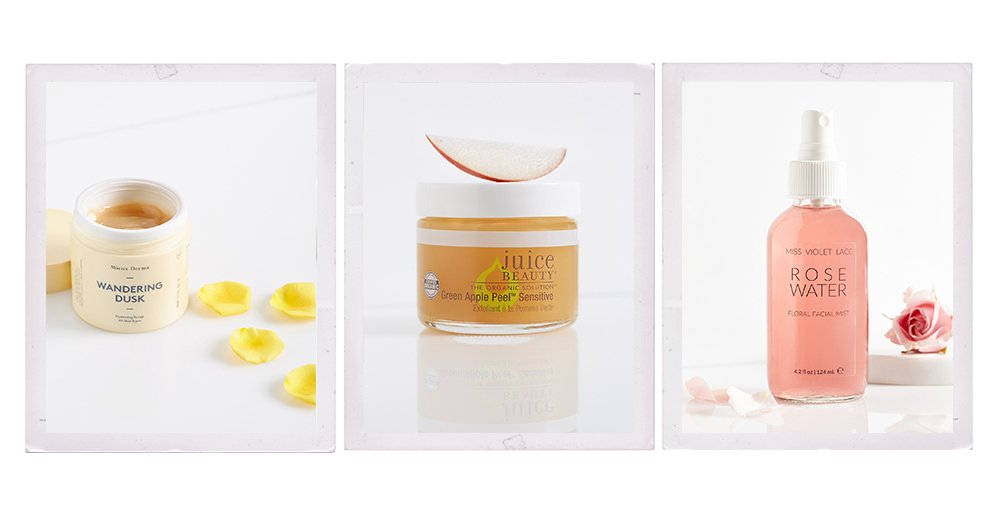 + What are you thoughts on going duo? Let us know in the comments below!