Skin Gym founder Karina Sulzer shares the easy steps to mastering ancient rejuvenation techniques…
"Women are working out at the gym every day, but still forgetting to work out the most important feature — their face!" enthuses Karina Sulzer, the brains behind Skin Gym, her LA-based beauty tool brand that's become an authority on those dainty crystal rollers that you've surely seen, but likely furrowed your brow in confusion on how to properly utilize.
THE NEEDLE-FREE INTENTION
"I want to change the way women take care of their skin," says Sulzer of her creations like Black Obsidian Beauty Wands and Citrine Healing Stones, all designed with crystals ethically sourced from Brazil. "I wanted a more natural beauty tool to use with my skincare products and couldn't find the solution, so I created my own," she shares of her motive for delivering a chemical-free, cruelty-free option for a generation that wants to "age gracefully, and without needles."
THE TIME-HONORED WORKOUT
The #skingymworkout has quickly gained a following, counting loyal fans like model Ireland Basinger Baldwin amongst the brand's facial fitness converts. Touting benefits like increased blood circulation, boosted lymphatic drainage (read: reduced puffiness), and better skin elasticity, the ancient method of facial toning and beautification is experiencing a modern revival.
THE GYM MASTERCLASS
In an effort to remove any mystery behind the brand's Blue Soladite Roller, Beauty Wands, and Healing Stone Pouches, Sulzer breaks down the how? why? and which? for each option.
Blue Soladite Face Roller:
Just released at the end of last year, "The Bluey" has already become one of the brand's top sellers for its complexion-balancing properties. "Blue Sodalite is excellent for hydrating skin cells and overall health of the skin," Sulzer explains of the stone that "calms inflammation as well as promotes healing." 
HOW TO USE:
Step 1: Apply your favorite moisturizer, oil or serum, like Joanna Vargas's vitamin C-packed Rescue Serum.
Step 2: Starting at your chin, work from the center outward and upward onto your cheeks. Then make sweeping rolls from the center of your chin toward your collarbones, working outwards to the sides of your neck.
Step 3: From the center of your neck, roll outward and upward, working up to every section of your face.
PRO TIP: "We HIGHLY recommend putting your roller or wand in the fridge and freezer to keep it super cold — this is the ultimate trick for maximum de-puffing in the morning!"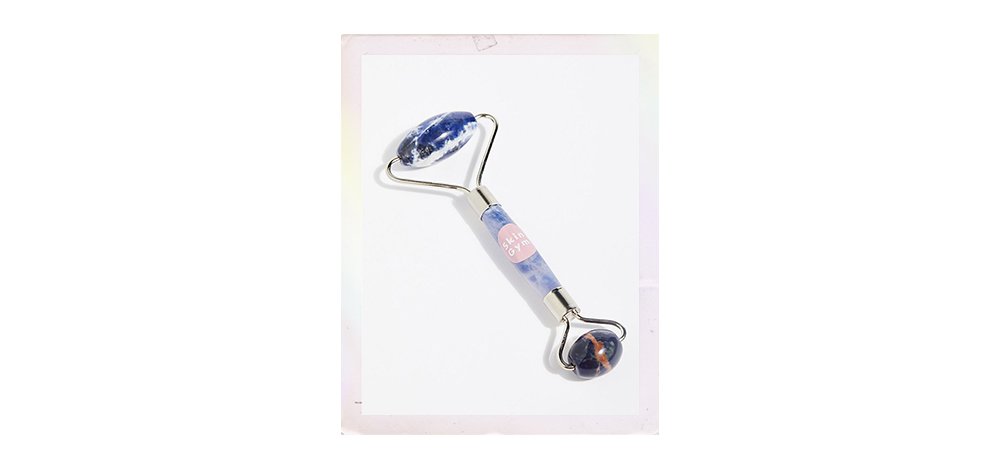 Beauty Wands
Introduced to the collection this month, the crystal wands can be utilized like a miniature stone foam roller for your face and body. "Since ancient times, crystal wands have been used for healing by healers all over the world — there is not really a right or wrong way to use your wand," notes Sulzer of the pretty stones.
EACH WAND'S BENEFITS:
Rose Quartz Crystal Beauty Wand:
"Rose Quartz purifies and opens the heart at all levels, while delivering inner healing and clear complexity. The powerful love vibrations penetrate your heart down to a cellular level, rejuvenating and reprogramming your skin cells. This 'emotional healer' can be used to reduce and release impurities and stress in the skin. Its best for detoxing, lifting, and softening fine lines and wrinkles, alongside draining toxins and negativity."
Black Obsidian Crystal Beauty Wand:
"Black Obsidian has the most potent energies; with elements of fire, water, and earth. It has traits to awaken the inner warrior in you. With consistent use it brings imbalances to the surface so that they can be released. This healing effect penetrates the skin and rejuvenates on all levels. Negative energies are magnified so that they can be set free, benefiting your muscle tissues over time."
Clear Quartz Crystal Beauty Wand:
"Clear Quartz is known as the Master Healer, because it is the most powerful healing stone and is great to pair with other crystals in order to amplify their energy. Clear quartz has a very high silica content, which is an important mineral for our skin health."
Citrine Crystal Beauty Wand:
"Citrine is a gemstone of light, happiness and abundance. It is known as the most powerful gemstone for manifestation. It inspires one to achieve their goals, and brings energy and joy to the surface."
HOW TO USE:
"Massaging the face with the wand can revitalize by increasing blood circulation, and improved circulation from regular massages can make skin look brighter and more awake," Selzer shares.
Step 1: Pair it with a facial oil, serum or moisturizer to increase effectiveness and product absorption.
Step 2: Roll the wand very gently in an upwards motion over the face, then press gently against your skin working from your neck towards the forehead.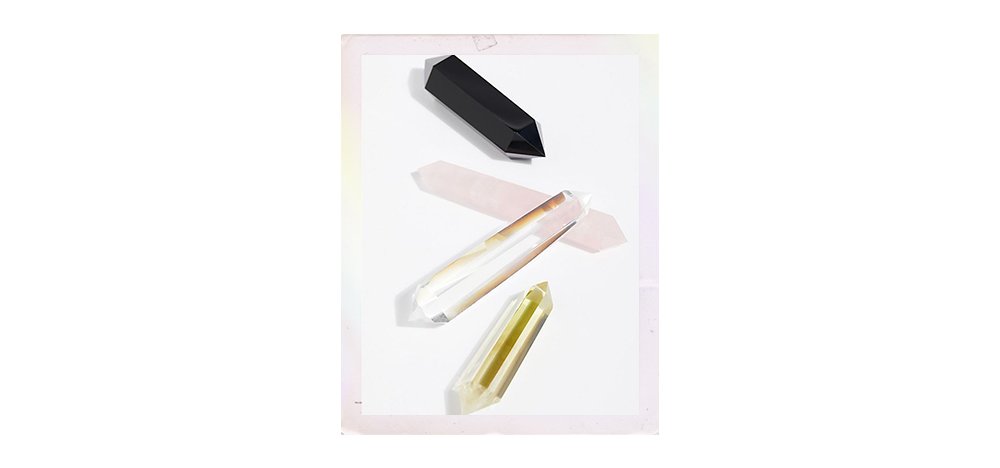 Healing Stones Pouches
Energetically charged through shamanic ceremony to empower their intention, Sulzer touts these little gems as her secret weapon. "I DO NOT LEAVE MY HOUSE without my healing pouch," she assures, noting that the possibilities are endless for how best to use them.
EACH CRYSTAL'S BENEFITS:
Rose Quartz
"The ultimate beauty crystal, known as the Crystal of Venus, goddess of love and beauty. Infuse your face with all the rose quartz minerals."
Amethyst
"Powerful and protective crystal that soothes away day-to- day stresses. Calms inflammation and great for acne-prone skin."
Citrine
"Optimistic. Can be used to assist with seasonal depression and to bring opportunity and creative energy."
Green Aventurine
"Protects against negative energy and promotes positivity."
Carnelian
"Provides relief and support for female issues."
HOW TO USE:
Step 1: Place the stones on your skin to ease tension away and get rid of negative energy.
Step 2: Carry the pouch in your purse, place the stones on your nightstand, or even under your pillow to attract love and provide positive energy.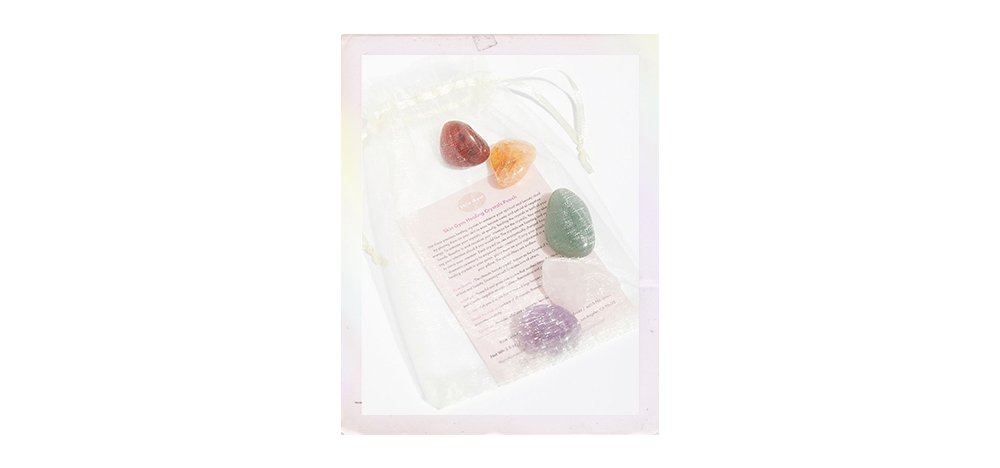 + Shop all Skin Gym's natural beauty tools here!