This Ayurvedic cleansing oil is gaining a cult following with industry insiders for its next-level skin benefits and no fuss, no muss organic ingredients…
This post comes to you from contributor Arden Andrews.
Let's be real — in the scope of revolutionary products, a facial cleanser rarely steals the spotlight. How much attention does that step you typically wash down the drain really deserve? Apparently, when it's packed with complexion-nourishing ingredients and zero of the risky chemicals found in drugstore soaps, it can garner the kind of following that turns an up-and-coming brand into an overnight cult hit. Enter Kumari Cleansing Oil, the hero product of indie Ayurvedic brand Wilde Gatherings which is quickly gaining buzz amongst industry insiders for its next-level results, not to mention the spa-like experience it delivers upon impact.
"I believe that skin care needs to have a little wakeup call," says aesthetician Kelley Hughes, who founded the organic line last year. "People need to think about their skin, what they need, and not just follow what the masses are doing," explains Hughes, chatting earnestly over the phone between client facials. "I have people who come in and literally still use Noxzema—I'm blown away by it. I mean, come on, Noxzema? It's Crisco with menthol in it! It is bananas that they're putting that on their face."
Sparking the shift to natural and focusing on ancient Ayurvedic principles which she describes as "the most amazing, oldest documented medicine we have," Hughes originally mixed up batches of the cleanser by hand in her Philly-based salon, the Parlour. Rudimentary packaging in amber bottles with masking tape labels reading "Kumari" (which means aloe) didn't stop it from flying off the shelves for years before she ever created the brand. "I started selling at Free People's market where they bring in local artists and makers, and I would set up a table next to these great companies like Vapour. That's where buyers first were like,'What is this? What is going on here? I hear people talking about this…' and it just did so well."
The preservative-free recipe contains a blend of stimulating, antioxidant-rich oils like lemon, neroli, sweet orange, olive and sea buckthorn, and aside from those that suffer from consistent breakouts with a very high oil production (who can still use it as an eye makeup remover), it works for all skin types. The tincture brightens and tightens the complexion, plus doubles as a moisturizer for both skin and lashes. "People tell me that their eyelashes have gotten healthier after using it consistently," says Hughes. "The olive oil specifically nourishes and helps with lash fullness."
But how exactly does one cleanse with an oil after years of lathering up with old school soaps? Below, Hughes offers her salon-approved step-by-step system:
"Put a couple of pumps in your hand and massage it into your face, loosening your makeup."
"Add a bit of warm water and moosh it around a little on your skin."
"Take a warm washcloth, lay it over your face, and compress gently."
"Breathe in — it smells like heaven. I think neroli takes it to another level — it's really a euphoric scent."
"Remove the washcloth to reveal the fresh, hydrated, soft transformation of your skin."
"You're done. You could go to bed like that! It's so moisturizing, you don't have to buy another thing."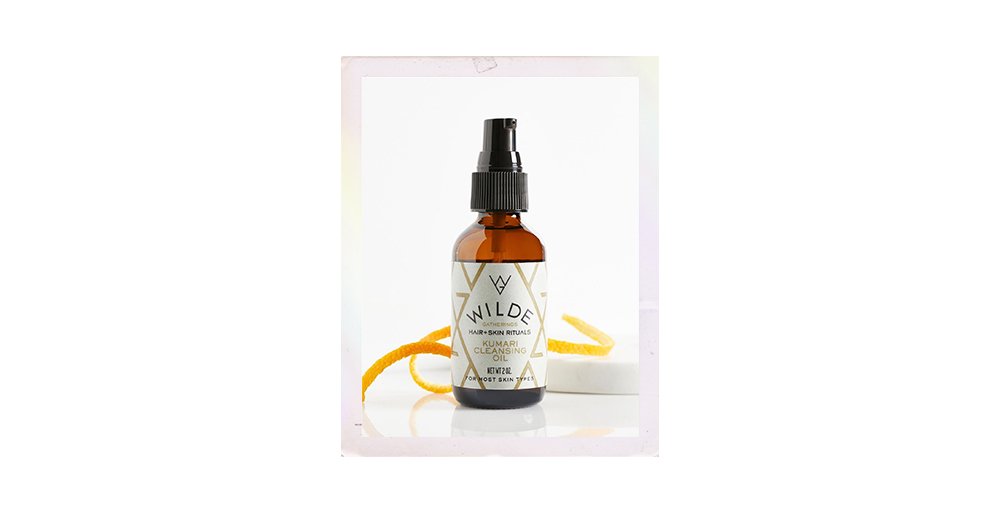 + Check out more beauty hacks from Arden here! 
Lead image by Dom Episcopo.