"We won't launch a product unless it feels good on your skin…"  You may soon be able to attest to that yourself…
In his past life, beauty entrepreneur Abbott Stark worked behind the scenes developing the blockbuster skincare and makeup items for some of the largest international brands. "I had a budget of thousands of dollars to travel around the world and buy the best products," he says. "Yes, it was amazing." But after all that scouting, he couldn't find certified organic skincare that delivered the same anti-aging, youth-preserving clinical claims as the conventional brands. "I realized it was time to create a product that satisfied my obsession with organics and delivered the performance-promise we all expect from good skincare," he says. Together with his co-founder Mark Rice, Abbott launched Ogee Organic Skincare this fall, and today the brand is based in upstate Vermont on fertile, creative ground (the former site of Ben & Jerry's original ice cream garage, in fact). Here, Stark—who is also a certified yoga teacher—talks about tapping into the number one skincare ingredient, the myth that all natural oils are created equal and why it's sometimes wise to skip a workout for a facial.
After you had your idea for Ogee, how long did it take to get the brand off the ground? What were the biggest challenges? 
Launching a product is like writing a novel because of the time and energy that goes into the initial creation and multiple revisions. The process took almost two years. Our biggest challenges were achieving the aesthetics of our formulas. We won't launch a product unless it feels good on your skin. And then, we applied for our strict organic certification, which was also a very long process that took months.
Jojoba oil is the hero ingredient in the range. How did you formulate your products so the results are more effective than if we just applied pure jojoba oil to our skin? 
During a jojoba oil supply crises caused by massive crop failures related to global warming several years ago, I got curious about what made jojoba oil so special and discovered that it's the best oil for skin care. It was in many products at a low level and we were suddenly unable to fulfill many millions of units of orders. Jojoba could not be replaced with any other oil because it has a unique molecular composition – it's actually a liquid crystalline wax – that distinguishes it from all the other available oils.
Since then, the prices have skyrocketed and there have been many concerns about dilution and substitution. Also, some jojoba extraction methods utilize solvents and heat, which can degrade the quality of the oil.
At Ogee, we use American-grown jojoba oil sourced from a single organic farm in the American desert – the native growing region of the plant. We then cold press the oil on the site of the farm to ensure that the rich antioxidant and polyphenol content is preserved. The resulting product is the highest – Golden – grade of jojoba. Our organic certifier guarantees the purity and integrity of the process.
Also, our signature five floral essential blend, which is known for its light scent, enhances our Jojoba Restore Face Oil with its various skin benefits.
What product has been the most successful so far? 
Our Sculpted Lip Oil became an instant cult favorite. We can't keep it in stock. The soft, melt-y, balm-y smooth formula contains drops of our organic jojoba oil, suspended in a matrix of organic butters and waxes to nourish and moisturize lips. We've infused organic peppermint oil for plumping.
Your Daily Facial Cleansing Cloths are another cult favorite. What's so unique about them? 
Unlike so many wipes, which are made with harsh surfactants and alcohol, our cloths are based on organic moisturizer technology. They effectively and gently break down and remove makeup and impurities, while replenishing skin with organic aloe vera juice and a light layer of sugar and fruit-derived alpha hydroxy acids to stimulate cell renewal.
They are so gentle and pleasant—one of my friends said that the only way to get their five-year-old to wash her face at night is to use the cloths. Ultimately, they are gentle enough to be used on any part of the hands or body for a convenient clean-up and refresh.
The obsession with skincare oils has, in some cases, led us to believe that ALL oils are good for our skin. Yet that's not always the case, as certain ones can lead to breakouts and dryness. Did you take this into consideration when creating your range? 
Jojoba oil can help to repair the damage that other oils and harsh environmental conditions can cause, such as acne and dryness. Jojoba oil is the best skincare oil. Period. That's because it has a molecular similarly to the building block oils of human skin. It helps balance oil production by telegraphing messages to our skin, moisturizing dry skin and regulating oil production for acne-prone and combination skin types. In contrast, other plant, vegetable and nut oils are composed of triglyceride molecules, which can clog pores and leave skin feeling greasy.
What is your brand name inspired by and where do you call home? 
Ogee is a term inspired by architecture that means the "line of beauty." It describes a double, S-shaped curve. On the face, the Ogee line describes the indentation of the cheekbones – a line that signifies natural youthfulness and beauty. We are based in Burlington, Vermont. Our offices are on the site of the original Ben & Jerry's Ice Cream Garage. We work out of a converted 1800's factory building that was used to make remedy tinctures.
What's something that most of us do not know about the organic beauty world? 
I think more and more of us are learning that 60% of some products we put onto our skin are absorbed into the body, so we are starting to apply the same requirements to our skincare that we do to our food. Organic certification means that ingredients are grown without GMO's and toxic pesticides.
Recent research discovered that organic produce naturally contains higher levels of antioxidants and micronutrients than conventional crops. Those are the ingredients that we try to maximize in our skincare due to their effective beauty benefits.
When you're not working, how do you maintain a healthy lifestyle? Do you have any favorite wellness rituals or tips? 
Since I travel a lot for work, I am always looking for activities that I can take on the road with me. I am a certified yoga instructor, so I do quite a bit of hotel room yoga. When I'm at home in Vermont, I like to take runs along the edge of Lake Champlain with my mini poodle. However, my most important wellness tips are to get plenty of rest and pamper yourself. It's the principle of: feel fabulous to look fabulous. Skin can be the first place that we'll show that we're rested and in good health. My very favorite activity is to skip the workout to get a facial or a massage – or even a good nap.
What's next for Ogee? Do you plan to introduce any new products or categories in the future? 
We're always looking to push the boundary between trusted organic ingredients and the newest natural skincare technologies. We are experimenting with climate adaptive technologies, since climate change causes such pronounced swings in temperature, and as we are all traveling more and more, we need skincare that can sense those extremes and still perform. In terms of offering multi-benefit products, we are also working with infusing skincare and makeup benefits into a single product, such as our Sculpted Lip Oil, which has been so popular—we'd love to add tints.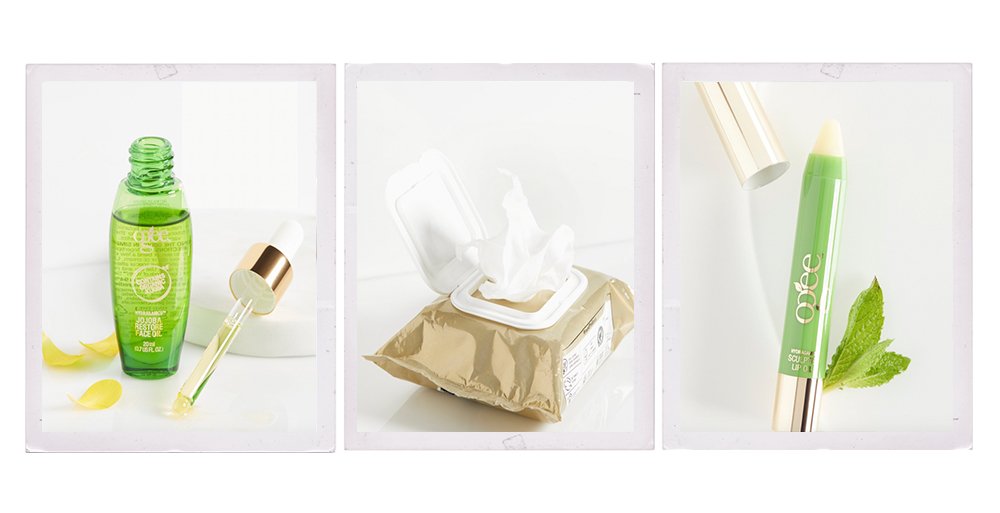 + Show your skin some love and shop all Ogee products here!