Sometimes the best solutions are the simplest ones. Here's why salve rocks…
This post comes to you from contributor, Katheryn Erickson.
Everyone has a desert island beauty product. For many, it's mascara. For others, it might be deodorant, a fancy cream, or a rose face mist. But if I had to sustain on a single beauty item for the rest of my life I would, without question, choose a salve.
Here's why: A good salve or balm can heal cuts, soothe eczema, nourish dry skin, and even sub for makeup in a pinch. It's the original beauty multitasker, yet so often underappreciated. And I'm not referring to your average petroleum-based lip balm: The salves and balms below are small and mighty, powered by all-star ingredients like Shea Butter and seed oils, and bottled in cute, travel-friendly packing (most are solid, so you don't have to worry about spills or the TSA). They're also the best kind of fall and winter product — offering healing and protection when your skin is chapped and suffering from sudden cold weather and aggressive indoor heating. "Most times, when you're reaching for a salve, you're experiencing something more than just dry skin," says Ebb and Flow founder Ty Bramwell. "Salves and balms are concentrated, and packed with nutrients, vitamins, and goodness to do so more than moisturize." Ready to meet your new favorite beauty product? Read on.
There's a reason Ty Bramwell included "magic" in the title of this chemical-free alternative for treating eczema. Since its creation, her friends have discovered it soothes a number of ailments, from bug bites to diaper rash. The star ingredient in this healing wonder is the herb plantain, which is solar-infused for a full moon cycle in hemp seed oil, then blended with rich, fatty Shea butter.
This sweet (but not too-sweet) vanilla-scented balm from everyone's favorite natural makeup line has ingredients like cocoa butter, Shea butter, beeswax, and coconut oil.
This tube contains an exceptionally potent, thick, unscented salve powered by lanolin — a natural moisturizer derived from sheep's wool (don't worry, Lano is cruelty-free!) that mimics skin's own lipids — and hydrating manuka honey.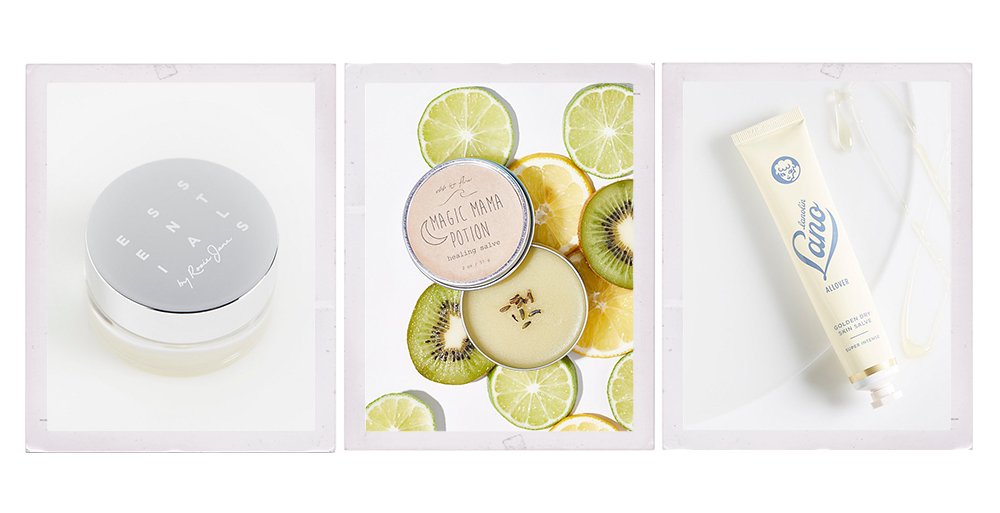 The hero in this balm is Omega-packed chia seed oil. It also has a pretty, delicate orange blossom scent so doubles as a barely-there fragrance.
This citrusy pot of goodness from the Georgia-based brand is appropriately named: It's literally designed to be used anywhere, and for an endless number of skin needs, thanks to a concentrated mixture of mango butters, coconut oil, and seed oils.
This balm, from Los Angles makeup artist Rosie Jane Johnston, has a base of Shea butter and calms skin with white tea, a natural anti-inflammatory.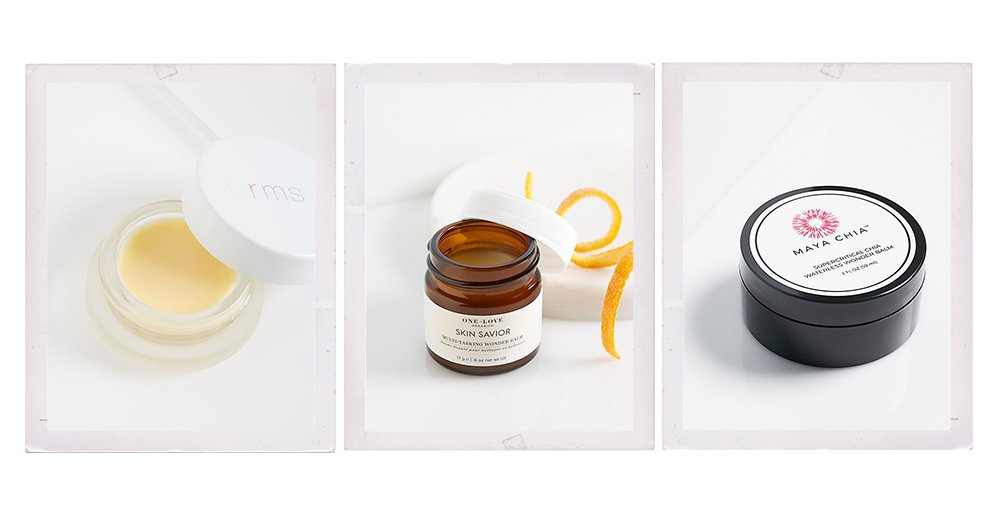 And now, all the ways to use them:
To remove long-wear lipstick.
Salves and balms are oil-based, so they're ideal for breaking down those stubborn, long-wear lipsticks that linger long after washing your face or using a makeup-removing wipe. Just scoop a small amount with your finger, apply to your lips, massage it in for a few minutes, and then buff off with a warm washcloth (leave it on longer to double as a lip mask). Bonus points: Mix it with turbinado sugar and you've got a DIY lip scrub to nix flakes.
To moisturize dry cuticles.
Salves and balms can be greasy, so this is something that you'll want to do before bed. Work your balm into shabby cuticles (on both hands and feet!), and they'll look freshly manicured by morning.
To do a healing hand or foot treatment.
When hand and foot creams aren't enough, a salve is ideal for anyone who works with their hands or spends a lot of time in the garden. Take a generous dollop of balm, warm it up in your palms, and massage it into your hands or cracked heels at night (cover with cotton socks, so you don't stain your sheets). Your heels will thank you.
To soothe eczema and chapped skin.
Use a balm to protect and cure unhappy skin — on your elbows, knees, anywhere! The best part: the rich texture keeps skin soft and coated for hours.
To tame frizz.
Warm up the tiniest amount of balm in your hands, and gently smooth it over flyaways (be careful not to overdo it — too much will make your hair look greasy). You can also work it into ends to make ragged spots look healthier, or to give short hair a piece-y, Kurt Cobain vibe.
To heal spots.
While the idea of applying something thick and occlusive to a healing pimple may seem counterintuitive, the reality is that'll it'll simply nourish your skin and speed up healing (also making skin less likely to scar).
To do the glossy lid look.
All major makeup artists turn to one to product to do that lived-in glossy lid look: Aquaphor. Use your go-to balm for the same effect.
To turn makeup products into creams.
Mix balm with your powder eye shadow before applying it to lids or with a lipstick to make a custom tinted lip balm or cheek stain.
To set brows for that sprout-y look.
Brow gels can look a little stiff and flake by end of the day — but that's not the case with a balm. Apply the lightest coat to your brows, then comb through with a spoolie brush. Bonus: it gives arches a pretty sheen.
To give skin a healthy glow.
Highlighting is one of the prettiest ways to emphasize your features, but not everyone is into glitter. If you aren't, use your balm. Dip your ring finger into a pot and apply it to the tops of your cheekbones, Cupid's bow, brow bones, collar bone — basically anywhere you'd apply highlighter — for a subtler, more believable result.
+Shop all FP Beauty & Wellness products here!