Until the art of time travel has been mastered, dust off your vinyl, kick back in one of our graphic tees, and let the music take you places.
In the midst of Mayfair lies a truly legitimate time capsule to the 1960s – the perfectly preserved flat of Jimi Hendrix. Word on the street (and hardly surprising) is that his parties were outRAgeous. Until the art of time travel has been mastered, dust off your vinyl, kick back in one of our graphic tees, and let the music take you places.
As such, Handel and Hendrix made for the perfect back drop to this story. And who better to shoot these on then Sara Thomas, vintage mix-master and absolutely born in the wrong decade babe. Laura Hayden, singer of Anteros and the charismatic frontwoman we all want to dress like. Eliza Moore, British blogger and super stylist – Guns n Roses groupie meets 70s love child with a Western edge. And Sammi Jefcoate, sophisticated rock n' roll style blogger and owner of heavy metal tee label Hallow.
Photography by Natalia Mohl.
Location space: Jimi Hendrix Flat, 25 Brook Street, Mayfair, London W1K 4HB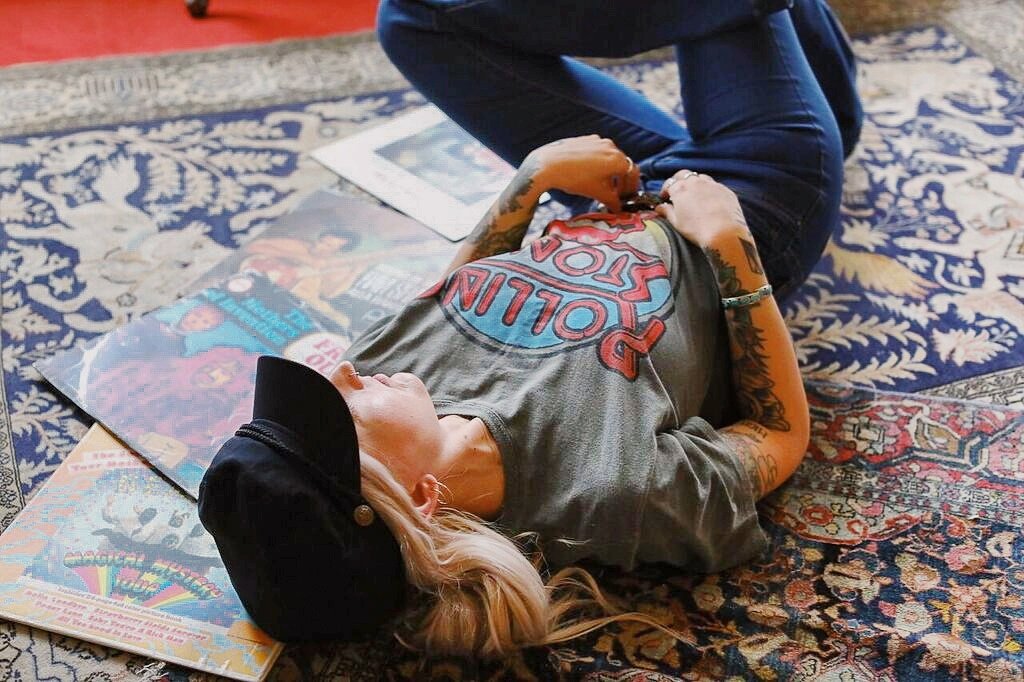 My favourite rock and roll anecdote was definitely getting the chance to meet and hang out with Pamela Des Barres – ultimate groupie babe and one of my favourite authors – when she came to visit my vintage shop in Brighton! It was an honour to meet rock and roll royalty all the way from California, and to hear she loved my vintage was nothing short of incredible.
We were on tour in January, and decided it was a good idea to find a mini-fridge for the van, but couldn't afford one. One night during tour, I dared Harry (drums) to take one from a venue – they had so many of them laying around all over the place. We disguised it as a guitar amp and carried it out through the venue's front door. After all of our efforts, the fridge turned out to be broken… karma isn't rock n roll.
Last year, after a short stint living in LA, Sara and I thought it would be a great idea to stay up all night and party before catching our flight back to London. I mean, we were in LA, right?! The fun was just too good that we had a hard time pulling ourselves away, so we ended up bringing the party back to our apartment at 6am…for about 30 minutes before reality sunk in! We had to be out by 9am so we managed to get our stuff together, empty our apartment of ourselves and our party crew and get to LAX airport. Our luggage was well over, so we had to wear a lot of our clothes (I'm talking hats on hats, three jackets, shoes on our hands!). Our flight ended up being delayed and we missed a connecting flight, so arrived back London having had NO sleep and only our party memories to keep us warm. I'll never party before a flight ever again!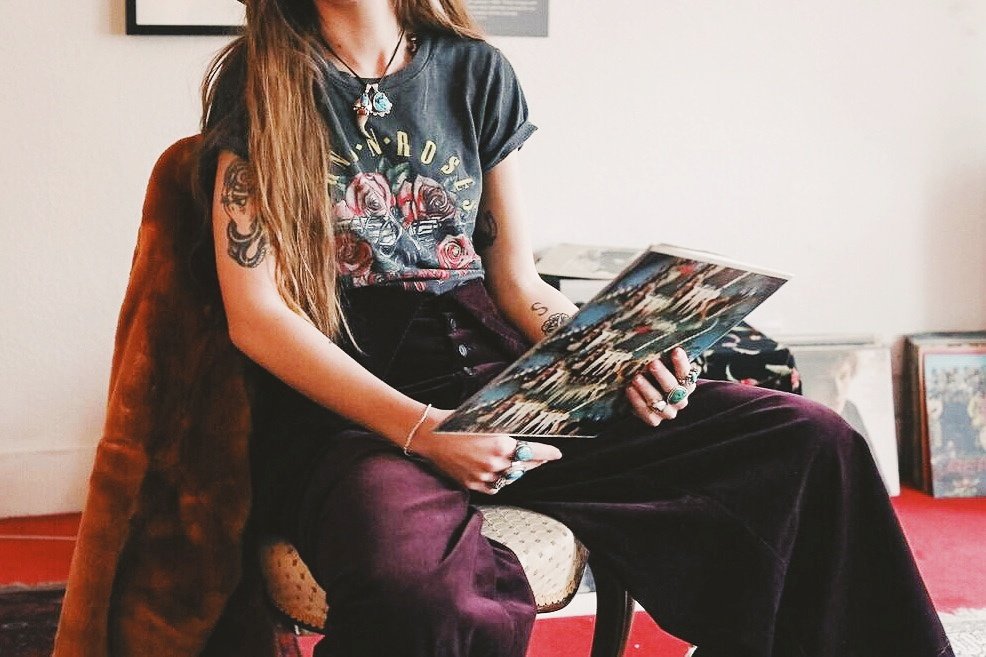 I was 15, living in Spain, and I'd worked 3 jobs over the summer holidays to save up enough money to see two bands. One was Marilyn Manson (…that truly has one epic story to go along with it…but that's for another time) and one was A Perfect Circle. My boyfriend and two friends and I hopped on a bus at 11pm the night before the show, each with a carrier bag of clothes (the night bus was cheap…and we needed cheap). The bus travelled for 8 long hours overnight to Madrid: yeah, we REALLY wanted to see this band. We stayed in the cheapest hotel money could buy (it was…run-down, let's say), dumped our carriers off and went straight to the venue. Excited didn't cut it. We waited in line, chatted to a bunch of likeminded teens, and as soon as the doors opened I ran right to the front. The show was unreal – the set-list, the atmosphere. I was going to be on a high for weeks. We all ran outside after the encore, totally delirious from enjoyment. We decided it wasn't enough. We needed to wait – in -5 degree temperatures – to meet the band. 2.5 hours later (as our faces were turning blue – that's an APC ref – ya get it?), we did. It remains one of the best f*cking nights I've ever had. There is nothing to replace how music can make you feel.