Unsure of what to get for that special someone? Amanda Shine of The Setting talks with us about what inspires her, the music that moves her, and her specially-curated beauty baskets, made just for us…
Your spirit animal:  A lion.
Tell us how The Setting came to be: I started making ceramics while still working at Free People… and friends soon began requesting their own custom pieces. About six months into pursuing my part-time and weekend hobby, I met my future business partner, Billur Kazaz, in a midtown ceramics studio. We really hit it off and soon began integrating product into our event production — the rest is history! 
Why ceramics? Ceramics is an ancient industry, with the vessels first used to store water and later food. I love their historical relevance and, personally, love their physical and tangible element. All of our work is handmade, and that makes it so special to us…. Each one is unique and evergreen — ceramics last forever.
Travel plays an integral role in how you create your work. What place has provide you the most inspiration? Why? Morocco and Turkey were deeply inspiring. I visited both with Billur and her family. They were just so different from other countries I had seen, and I appreciated their historical and geographic influences. Japan really resonated with me, as well. Tokyo was so clean, polite and fast. It felt like the most efficient and happiest place on earth. All of these places share a love of tabletop and ceramic culture which is an art form that I've always been drawn to and inspired by. Beijing and its art district was also one of the most amazing places I've ever seen. The world is vast and should be traveled… in general, I feel like it's part of what makes our business unique — sharing these experiences of how people across the world set their table, host their guests and come together. 
Sunrise or sunset? Sunrise.
Greatest achievement/biggest challenge: My greatest achievement was collaborating on a Montauk-based hotel launch this past summer. We worked around the clock, and to share that success on our resume means a tremendous amount. My greatest challenge has been managing growth and shoring up a team… I am busy from the moment I wake up until the time I fall asleep, and allowing others to lend support and trusting them to come into that process takes time. It's an incredible challenge, but also really vital for a company, and it's extremely rewarding to have young girls from around the globe helping The Setting to properly represent women who aspire to work in hospitality. 
Favorite recipe: Roasted whole chicken with potatoes and a salad!
Top 5 songs that put you in your happy place: "Anywhere Is" by Enya, "Valerie" by Amy Winehouse, "Everything I Am" by Kanye West, "Dancing on Glass" by St. Lucia,  "In The Morning Light" by Alex Schulz.
Coffee or tea: Both! 
What advice would you give to someone starting her own business? Don't give up, and find a business partner.
Which beauty basket is your favorite? My favorite is the Mind Basket because it contains sage, which is my favorite thing for resetting after a long day… Free People helped to shape my appreciation of hard work, as well as self-care and self love — this basket embodies that perfectly to me!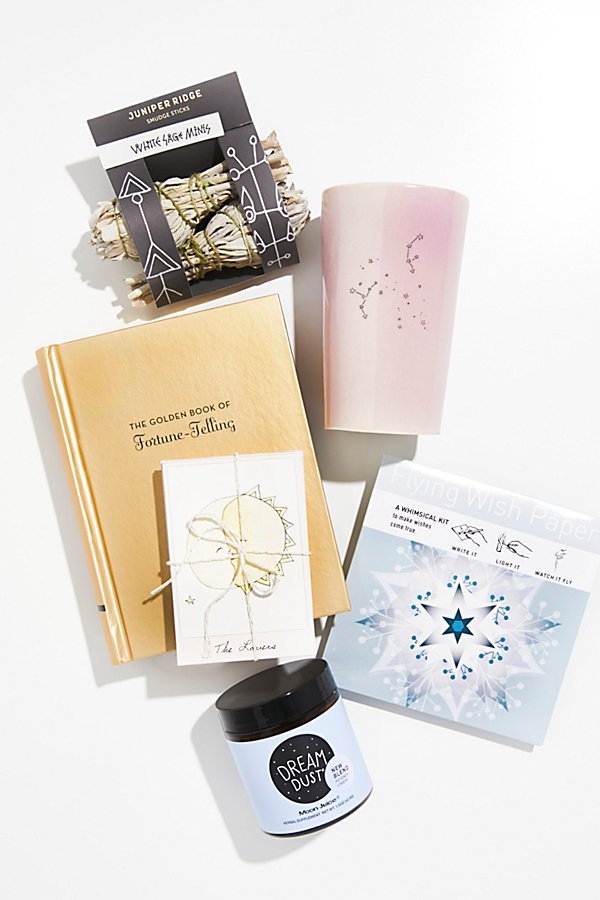 What does free mean to you? Free means having the ability to make your own rules and taking that responsibility to heart. Real freedom is looking out at a future full of opportunity and hunkering down to work as hard as you can to go as far as you can… 
+ Holiday baskets including custom ceramics by The Setting here!