This Swedish brand of eco-friendly toothbrushes is crafted from one of the most sustainable materials in existence — which is a very good thing for saving our oceans.
As we all know, plastic is a major problem for the environment. But you might not realize your small toothbrush can cause a ton of this damage. When you toss one, it often ends up in our oceans and waterways — multiple that act by millions of people and you start to see the problem. Inspired to reduce some of this massive global waste, Swedish dentist and entrepreneur Noel Abdayem launched The Humble Brush Co., a line of plastic-free oral care products crafted with bamboo, one of the most sustainable ingredients that happens to be naturally antimicrobial, too. The mission-driven company, which is headquartered in Stockholm, also works directly with kids in need to promote oral hygiene in areas where going to the dentist is not a regular thing. Here, we chatted with Abdayem about getting Humble off the ground, his thoughts on the anti-plastic movement and the little changes we can make in our beauty routines to better the planet.  
What inspired you to start Humble Brush Co.?
It started when I volunteered on Jamaica as a dental student. I was particularly struck by two things: first, not everybody owns a toothbrush, second, the beaches were full of old plastic toothbrushes that had washed up on land from the ocean. Being raised in Sweden, I never really thought of a toothbrush as something not everybody could afford. My eyes were opened. Once I got back to Sweden, I investigated the opportunity to create a biodegradable toothbrush. This eventually led to the Humble Brush and The Humble Co.
Do you still practice as a dentist?
I am a certified dentist and still work with it part-time. I promised my parents, who run a candy wholesale business, that I wouldn't become an entrepreneur like them and my older siblings. I guess this qualifies as some sort of compromise.
My dental background is also an integral part of The Humble Co., as it has given me a strong understanding and passion for the scientific aspects of creating a safe and effective toothbrush. All of our products are developed by dentists and supported by the dental community. It is very important to us that our products are top class from the medical as well as the environmental perspective.
Your brushes are crafted from bamboo. What's unique about this material?
Other than being biodegradable, it grows, and not just a little; it grows like crazy! There are certain species that grow up to 35 inches per day! The fast growth means that the supply is highly sustainable and affordable enough for everyday items such as toothbrushes and even clothing.
Another cool thing about bamboo is that it is actually naturally antimicrobial, meaning that the material itself fights bacteria. Finally, the bamboo also allows the toothbrush to be vegan. Not many people know this, but traditional plastic toothbrushes are covered with a non-vegan coating.
How often should a Humble brush be replaced and how can we recycle it?
We recommend that you change brush every three months. This is the industry standard and we are happy to say that Humble Brush has no problem meeting it.
The bare toothbrush handle can be disposed of in a commercial composting bin and will safely return to the soil within six months. However, the handle is a perfectly good piece of high quality bamboo — feel free to reuse it in your garden or any other creative area. The bristles are not biodegradable but could be recyclable in your city.
How do the Swedes approach oral care? Is it different from Americans?
Swedish oral care is to a very large degree based on the medical perspective. The focus is healthy teeth, and everyone has free dental care until they are at least 18 years old. While the American approach to oral care is, of course, also based on the medical perspective, I've gotten the impression that the cosmetic side is given more room. In the U.S. teeth should not just be healthy, they should also be very white. There's absolutely nothing wrong with either approach.
What core values influence your company and the way it's run?
Scandinavian culture is very collective, it's everyone's responsibility that everyone is taken care of. In a sense, that is also what The Humble Co. is all about, a vessel through which anyone can take responsibility for the environment and children in need. We have created eco-friendly products and founded an incredible foundation, but without the commitment of our amazing customers we cannot create any impact. It's only through the members of our Humble family, whether they are customers, partners or employees, that we can grow and create impact. We believe that together we can achieve real change, we call it a Humble Revolution, and we want everyone to be part of it. 
Tell us about the Humble Smile Foundation. What is the mission?
Humble Smile Foundation is a group of dental hygiene professionals and students who help those in the most vulnerable areas of the world to care for themselves.
The idea was born when I met Darren Wise, a dentist who had researched how to best organize and conduct preventative oral care efforts in order to create lasting impact. Until that point I had donated toothbrushes to different causes, but we realized that our impact could be much greater. Soon Humble Smile Foundation was born, and Darren has been its president since day one.
Funded exclusively by The Humble Co., Humble Smile Foundation has helped over 30,000 children through 27 projects across 26 countries. They are currently in South Africa working on their latest project.
I'm very proud of what we have achieved through Humble Smile Foundation, and again, so should every person who has every bought any of our products be as well — you made it possible.
What else can we do to reduce plastic use in our beauty routines?
The obvious answer is to look at the plastic products you have and search for eco-friendly alternatives. You'll probably be surprised by all the eco-friendly companies out there, just waiting for the masses to realize the impact of our habits and the importance of changing them. Again, companies like us can just provide an alternative, it's up to each and every one of us to be part of the Humble Revolution and make a change.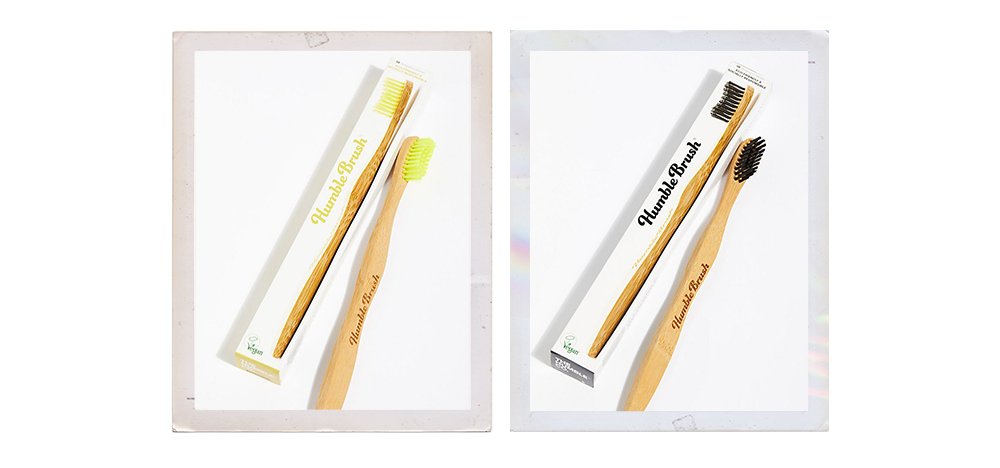 + Ready to brush up? Buy your Humble Brush here!