Meet the author of our catchy emails — our Assistant Copywriter, Caitlin…
Your position at Free People
Assistant Copywriter. (I write for accessories, beauty, intimates, Movement and shoes.)
Describe your personal style
I'd say it's trendy and femme some days, but laid back on others — definitely dependent on my mood.
What makes you feel confident?
Honestly, just getting dressed in an outfit I love and doing my hair and makeup. I truly believe that when you look good, you feel good.
Who is your style icon?
I wouldn't say I have a style icon, but I'm only 5'1" so I like to look at shorter celebrities like Lucy Hale and Sarah Hyland to see what types of silhouettes and styles will work on my body type.
Favorite part of your job?
I love that I get to see the product before it's online or in stores (so I know what I want to buy when it's available). I also love coming up with fun subject lines for our emails.
What are your beauty + wellness must-haves?
I'm a total beauty junkie and I'm always trying new makeup, so good skincare is a must. I love Sunday Riley and Drunk Elephant products.
What do you do outside of Free People?
After work, I'll usually either go to the gym or hang out with my boyfriend and on weekends in the summer I try to go to the beach as much as possible.
If you had to wear one thing for the rest of your life, what would it be?
High-waisted jeans. I refuse to be a part of the low rise revival.
Your favorite (upcoming) trend…
We've been coming out with so much cord lately—boots, hats, skirts— I can't wait until the fall so I can actually wear it.
Best concert you've attended OR dream concert you'd love to attend.
I'd really love to see Fleetwood Mac and/or Stevie Nicks one day.
Most embarrassing outfit you've ever worn.
I was a child in the early 2000's — every outfit was embarrassing.
One piece of advice you'd give your younger self.
Stop caring so much about what other people think — their opinions don't matter in the long run.
What's the first thing you'd do if you won the lottery today?
Probably buy everything that I save in my online shopping carts that I know I'll never actually purchase. And adopt tons of dogs.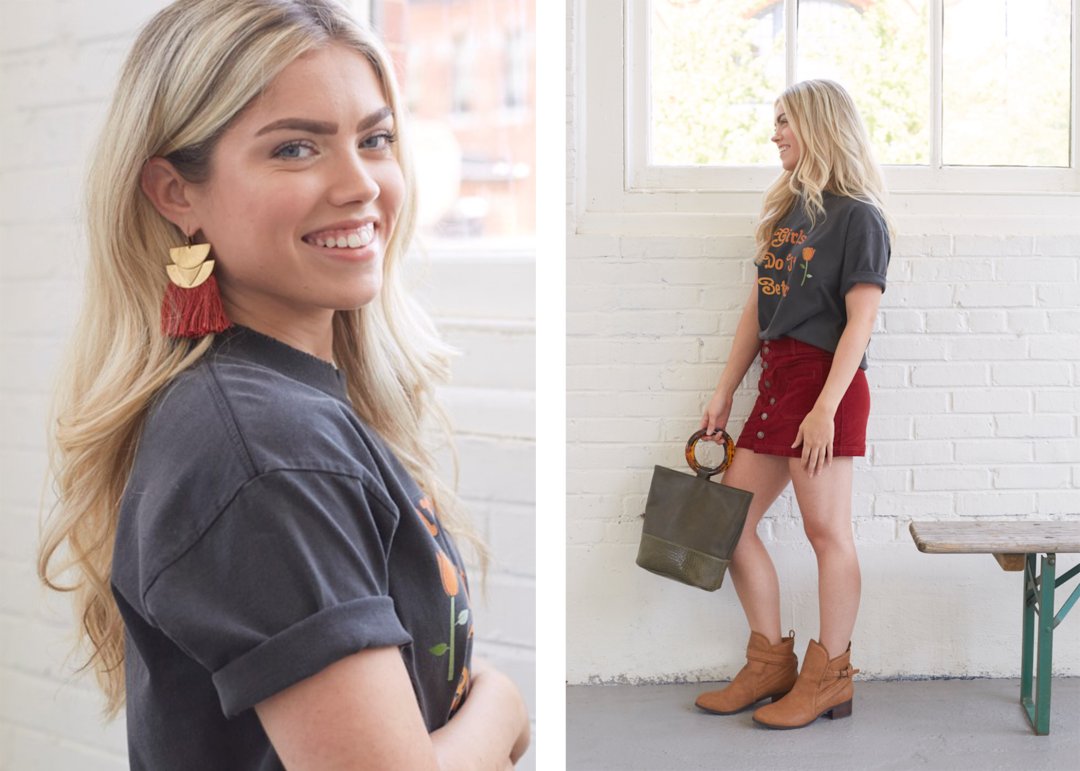 What's in your freepeople.com shopping cart?
Sunday Riley Lactic Acid Treatment
Follow Caitlin on Instagram.
+ Loving Office Style? Meet more of the Home Office employees here!
Follow Patrizia on Instagram.