Skin moisture that not only lasts, but is completely chemical-free…
If you're anything like me, a list of ingredients can easily make or break your decision to welcome a new product into your routine. Half the time, the names on the seemingly endless list are unpronounceable. So, my personal rule is this — if it contains more than five ingredients, it's placed back on the shelf and I move on, resulting in a very limited beauty arsenal. Well ladies, I have found us a solution. Say hello to Cocokind Skincare.
Cocokind is an organic skincare line with a focus on nutritious superfoods. Their products are crafted with the purest ingredients, providing moisture that not only lasts but is completely free of chemicals (HELLO new favorite). Cocokind is dedicated to remaining transparent and never uses more than five ingredients in any one of their individual products.
With a motto of  "what you see is what you get," this is a brand I can welcome with open arms. Read on to see why you just might be adding these organic must-haves into your own beauty regimen.
Revitalize Dull Skin and Dry Lips.
Made from organic beets, MACABEET Tinted Moisture Stick can be applied as a moisturizing blush or tinted lip balm to give the skin a healthy and natural glow. Organic maca and beet root, both rich in immune-strengthening fatty acids and vitamins, promote healthier and firmer skin. Quick and easy to use, MACABEET won't let you miss a beat! Apply daily to moisturize lips and cheeks and add a rosy glow.
Ingredients & Benefits:
Organic maca root: high in vitamins and amino acids; strengthens skin's elasticity
Organic beet: high source of iron; promotes healthy glow; anti-inflammatory
Organic virgin olive oil: softens and moisturizes skin
Organic beeswax: seals in moisture; protects the skin; anti-allergenic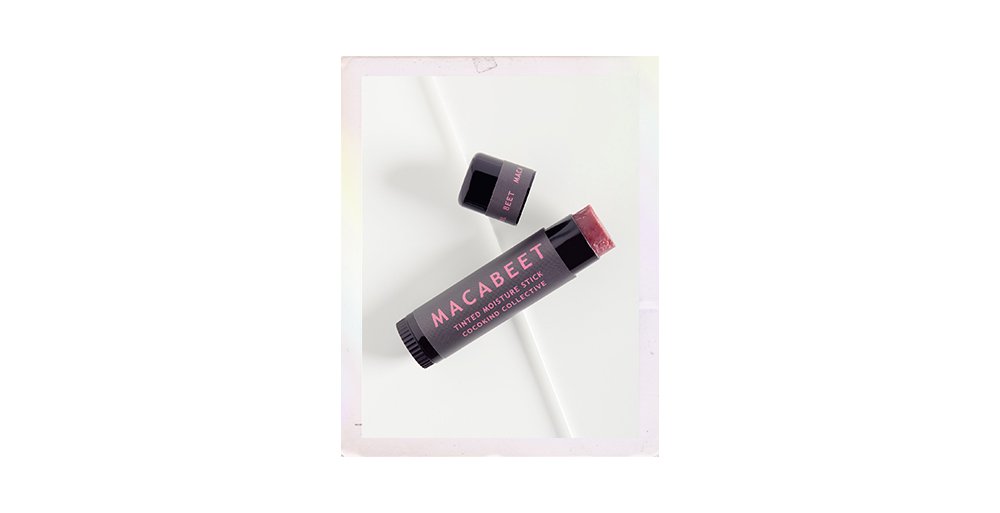 Fight Blemishes and Brighten Skin.
Turmeric, ginger and tea tree oil help fight acne-causing bacteria and balance skin tone, while sunflower oil soothes, moisturizes and calms the skin. Simple to use and easy to wash or wipe away, TURMERIC Spot Treatment is perfect for quickly reducing inflammation and brightening skin. On clean skin, apply liberally over affected area for 10-20 minutes. Rinse/wipe off with warm water or soft towel. Pat dry.
Ingredients & Benefits:
Organic turmeric: absorbs excess oil; antibacterial; anti-inflammatory
Organic ginger root: stimulates the skin; powerful antiseptic; antimicrobial; anti-inflammatory
Organic tea tree oil: unclogs pores; powerful disinfectant; antibacterial
Organic sunflower oil: high source of antioxidants and fatty acids; soothes irritation
Organic beeswax: seals in moisture; protects the skin; anti-allergenic
De-puffing and Preventing Dark Circles.
This fan favorite can be used as an organic lip balm, under eye balm, dark circle corrector, facial highlighter and dry spot treatment…anywhere and everywhere! A true miracle for under the eyes, use it day and night after cleansing. With just three organic ingredients, MYMATCHA All-Over Moisture Stick is perfect for on-the-go applications. Apply daily to moisturize skin and lips.
Ingredients & Benefits:
Organic matcha tea: high in antioxidants, catechin and chlorophyll
Organic virgin coconut oil: provides deep moisture; high in protein and essential fatty acids
Organic beeswax: seals in moisture; protects the skin; anti-allergenic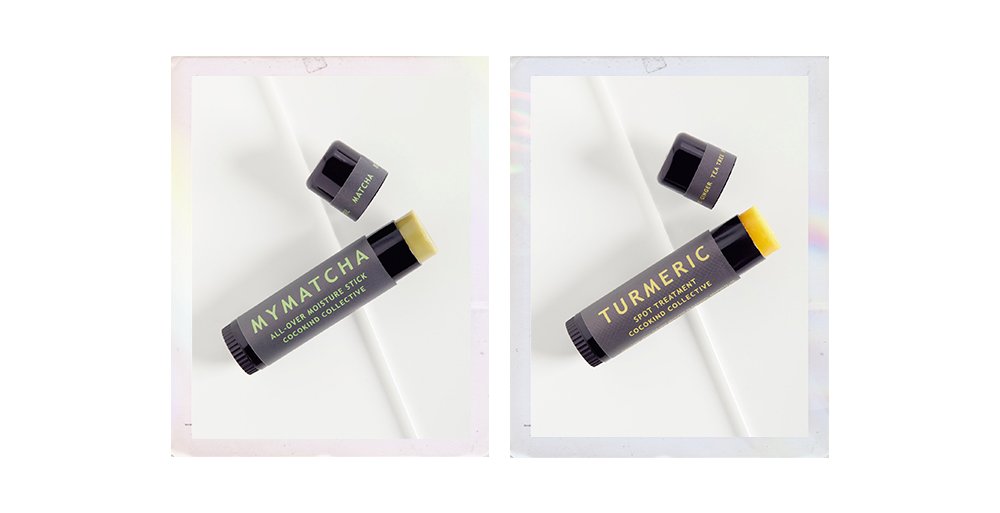 + Going organic with your beauty routine? Check out some of our favorites here! 
Follow April on Instagram!