Lightweight makeup-setting mist, softening the appearance of fine lines and wrinkles, creating a glow-like finish…
We've all been there. Starting our day with our makeup on-point, ready to take on the world and ending it looking about one notch up from a sprayed cat. Between coffee runs, spring detoxes and checking our Instagram feeds, who has time to actually stop and reapply makeup? Add summer to the mix, featuring humidity in all its glory and we have ourselves one not-so-desired beauty look. So, how do prevent the liquid meltdown? Insert Seven Seven Cosmetics Natural Glow Finishing Mist.
We reached out to Emily Jimison, CEO and founder of Seven Seven Cosmetics, to give us a little more insight on the mist that keeps our makeup looking fresh and flawless from morning to night. Read on…
Mist to Achieve Two Things…
To seal in your foundation (which is activated by the fine mist of moisture, binding it together) and to allow every ingredient, from primer to powder, to blend seamlessly. Giving your skin a glowing, flawless finish that won't budge until you wash up for bed! This binding effect ensures that, no matter how much of a sweat you work up on the dance floor, nor how many tears of joy you shed, your face will maintain glowing perfection from start to finish.
Adding Ingredients Like…
Titanium dioxide or zinc oxide to your regular skincare or makeup routine can save your skin in the long run. (Not to mention, save yourself the hassle of any pore-clogging.) And Natural Glow Finishing Mist, formulated with titanium dioxide, provides a long-wearing, broad spectrum protection that will keep your beautiful skin… beautiful!
Drench Your Face In Nutrients…
Such as cucumber extract, green tea, and citrus essence–but you'll get the help of breakout-fighting willow bark, keeping your skin plump and clear. Of course, as a "finisher," it's gonna seal all of those yummy skin foods into place with a gentle touch of peppermint to put some pep in your step! And don't forget this insider tip: for the best staying power and most refreshed winter skin, apply a thin mist prior to makeup application to prep the skin….and another when you're done to lock-the-look! Then you're ready to walk out the door…..and into someone's dreams.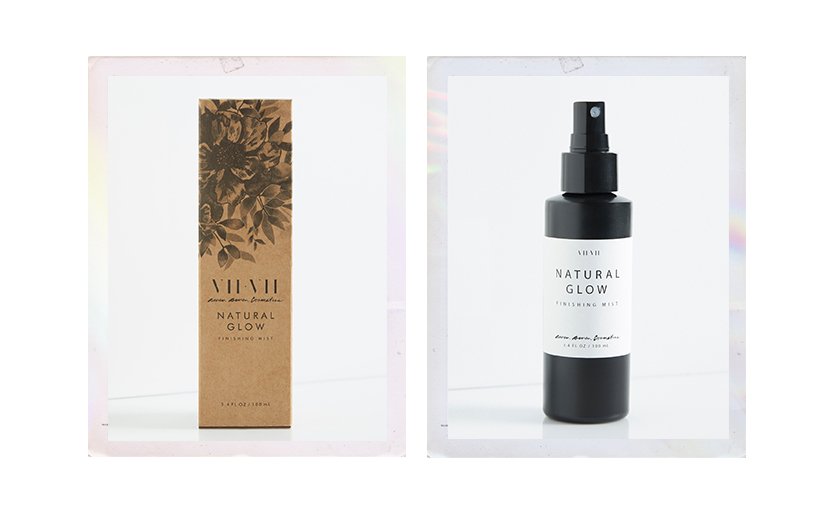 There you have it, Natural Glow Finishing Mist. A high-performance, lightweight makeup-setting mist that veils your skin, softening the appearance of fine lines and wrinkles, creating a glow-like finish. Formulated with moisture-binding and age-defying ingredients to hydrate, smooth, soothe and promote an all over radiance. Yes, please. 
+ Looking for a little glow yourself? Check out the Finishing Mist and more here! 
Follow April on Instagram.