Five ways to make the most out your beach day…
Crashing waves, white sand, shining rays…terrible sunburns, flaking lips, knotted hair, clogged skin. With the former almost always comes the latter, sadly. For as gorgeous and fun as a day at the beach can be, it's often followed by a slew of bodily woes at the hands of the elements you were so enjoying just a few hours before.
A day by the ocean should be carefree and fun, but if you do a tiny bit of planning before you head out to the sand, you'll be thankful. To help you out, here are some beach bag must-haves to keep your hair, skin, and everything in between just this side of "sun-kissed."
SPF
This is non-negotiable. And I really hope that at this point, my telling you how important SPF is, makes you roll your eyes and yell, "I KNOW!" But I'm going to include it here anyway because…duh.
SPF is crucial to not only enjoying a day at the beach but also for feeling like a human with healthy skin in the days after and the wellbeing of your skin for years to come. (Every sunburn you get increases your risk for melanoma, the most serious type of skin cancer. Though melanoma is rare—only 1% of skin cancer cases—it's not something to ignore, especially if you can help yourself with an SPF.)
When it comes to choosing a sunscreen, you have a couple of options. Physical sunscreens are named as such because they sit on top of the skin, physically blocking UV rays. They contain active mineral ingredients like titanium dioxide or zinc oxide that deflect and scatter damaging UVA and UVB rays away from the skin. Physical sunscreens also tend to cooperate more with sensitive skin since they don't sink in and clog pores. That said, because they sit atop the skin, physical sunscreens can rub off easier, meaning you need to apply more frequently, and they can leave a white-ish, chalky film on the skin.
Then there are chemical sunscreens, which contain carbon-based compounds that turn UV rays into heat via chemical reaction, then release that heat from the skin. Science! Since these guys sink into skin, they're thinner and easier to apply, but aren't great for reactive skin as their combination of multiple ingredients can be irritating (especially as the SPF gets higher). They're also more likely to clog pores.
So, it's really up to you which SPF route you choose. If you're great at evenly reapplying your sunscreen regularly, try a physical formula as they tend to be cleaner. If ease and stealth are your game, go with a chemical sunscreen. Either way, wear something, please. No one looks good with a sunburn.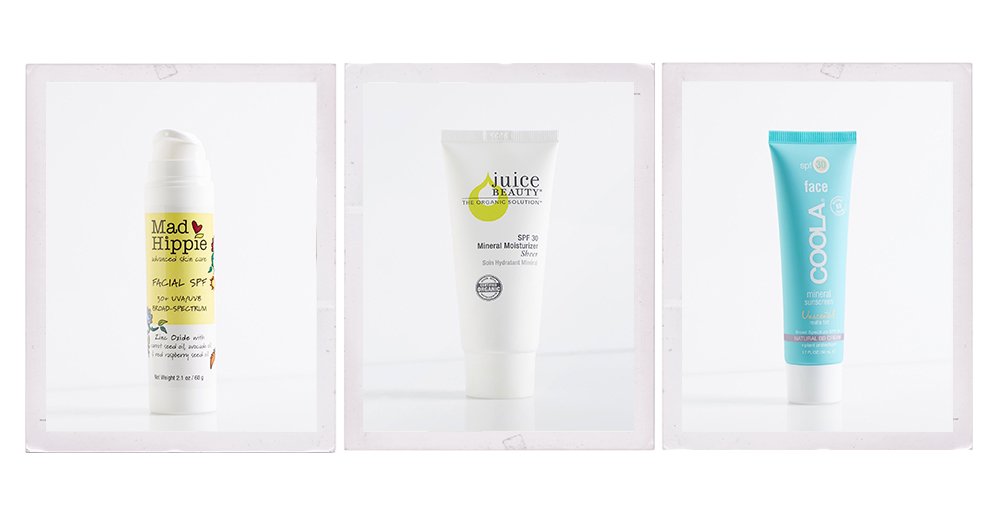 If you plan to sit under a large umbrella in long sleeves all day, you can probably get away with just a facial SPF. Mad Hippie makes an excellent broad spectrum one packed with zinc oxide (a physical blocker), carrot seed, avocado and red raspberry seed oils to deliver a dose of antioxidants while also offering serious sun protection. If you want a bit of color coverage, Juice Beauty's SPF Tinted Moisturizer serves up all natural, broad spectrum SPF 30 alongside vitamin-rich fruit acids and oils to bring out your skin's natural glow. And for coverage under makeup, the Mineral Face Sunscreen from COOLA provides serious mineral-based sun protection and still allows for smooth makeup on top of it.
For your body, you want something that can stand up to the sun, sand, and water without leaving white smudges all over that cute bathing suit. For seriously-easy application, look for a sprayable formula like Soleil Toujours's Organic Sheer Sunscreen Mist or COOLA's ECO-LUX Body Continuous Spray SPF 30 Sunscreen, both of which are organic, broad spectrum and sans-conventional sunscreen chemicals.
If you're not into aerosols, Suntegrity makes a gorgeous, easy-to-rub-in mineral formula that doesn't leave you greasy, is totally free of parabens, phthalates and mineral oils, and includes green tea and cucumber extracts for soothing, calming good measure. For a higher SPF, Let It Block's Goth Block boasts a 50 SPF and is water-resistant up to 80 minutes, meaning you don't to re-apply quite as often as with other mineral-based broad spectrum sunscreen.
Lip Care
You're good on the body and face SPF, but don't forget about your mouth! After all, lips are skin, too, so they need protecting just the same. For a barely-there tint, the SPF 8 Lip Moisturizers from Juice Beauty is a good everyday option. The SPF is fairly low so this won't be your go-to for oceanside reapplication, but it'll get you from your house to the beach with a beautiful pout. Another tinted option with more protective oomph is COOLA's Mineral Liplux, which boasts SPF 30. The six shades mean there's something for everyone and every mood, and the organic capuacu butter and mongongo oil mean it's nourishing, conditioning and goes on smooth.
And don't forget to treat your lips post-beach as well. Yes, you've done a great job protecting them throughout the day, but a little extra love never hurt. Made with uber-moisturizer jojoba oil, the Sculpted Lip Oil from Ogee is full of antioxidants and nutrients that will help combat inflammation and soothe a sunburn (just in case any rays snuck by).
Deodorant
Another potentially obvious item, but yes, deodorant at the beach is a thing. Though digital application can take some getting used to, the Cream Deodorant from Lulu Organics is worth it. Not only will the clean, invigorating lavender and clary sage scent perk you up during a hot day, it's totally free of parabens, petroleum, gluten and aluminum. Plus, the coconut oil, kaolin clay, baking soda and essential oils will keep you dry and smelling like a field of fresh herbs all day long. It's also pretty discreet in terms of application if you find yourself wanting to re-up at any point.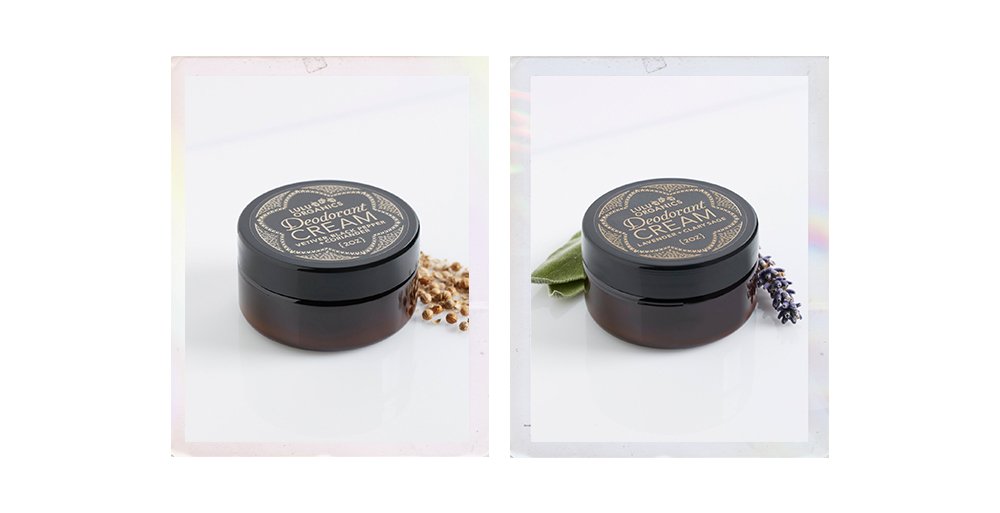 The Right Hair Products
For every woman who enters the ocean with hopes of emerging with mermaid-caliber beach waves, there is another who knows that this look isn't so easily achieved with just a dunk in the sea. In fact, "beach waves" more often than not take the form of "drowned rat," unless you're equipped with the right tools. And while it may seem silly to use a salt spray at the beach where you are literally surrounded by salt water, trust me when I say it's worth it.
Salt is incredibly dehydrating, which means it can leave your hair feeling crunchy and dead by the end of a beach day. To balance the drying effect, you need to counteract it with something hydrating. Both the Surf Sister Salt Spray from Plantfolk Apothecary for Free People and Captain Blankenship's Golden Waves Sea Salt Shimmer Spray offer just that. Each has a delicate balance of texture-friendly salt and nourishing oils to keep hair perfectly tousled and perfectly hydrated. For even more protection, feel free to work a few drops of hair oil—like this one from Little Barn Apothecary—through the lower half of your locks. It'll condition, tame frizz and boost shine so you're not a poofy-haired mermaid.
Skincare
You didn't think I'd forget skincare, did you? We've already covered SPF for your face, but a day at the beach doesn't have to be a "set it and forget it" kind of skincare situation. To make sure your skin is primed for sunscreen application, I'd suggest a light oil cleanse in the AM. Yes, cleansing balms are typically reserved for nighttime routines to remove a day's worth of gunk from your face, but it'll serve you well here.
First and foremost, you want to make sure your skin is free of anything that might work its way into your pores and get trapped under the physical barrier of a mineral sunscreen. Secondly, there's a chance some of the products you use on your skin at night contain photosensitive ingredients (ie — AHAs, retinols, essential oils), meaning skin that's exposed to the sun while wearing 'em is extra-sensitive. So before you head out to spend a day in the sun, you'll want to make doubly sure to remove anything like that from your skin. A personal favorite? Kopari's Coconut Cleansing Oil because it smells amazing, will leave your skin soft and primed for SPF, and doesn't include any ingredients that will interact poorly with the sun.
While you're at the beach, it's also not a terrible idea to keep cleansing cloths handy. There's no grosser feeling than the mixture of dried sweat, old sunscreen, and saltwater sitting on your skin: so avoid it all together with Kai Naturals' Juice Bamboo Natural Facial Cleansing Cloths. Individually packaged so they're a cinch to toss in your beach bag, these babies get everything off with a couple of swipes and are alcohol-free so they won't pile onto the drying effects of the elements.
And then if you want to get really fancy, I wouldn't say no to a luxurious, hydrating mist to replenish your skin's moisture. Maya Water's Facial Mist packs a serious moisturizing punch with just one spritz (plus it uses thermal water from the Norwegian mountains so you know it's legit). And the Rosewater Mist from Miss Violet Lace smells amazing and is packed with aloe vera to help soothe your beachy skin.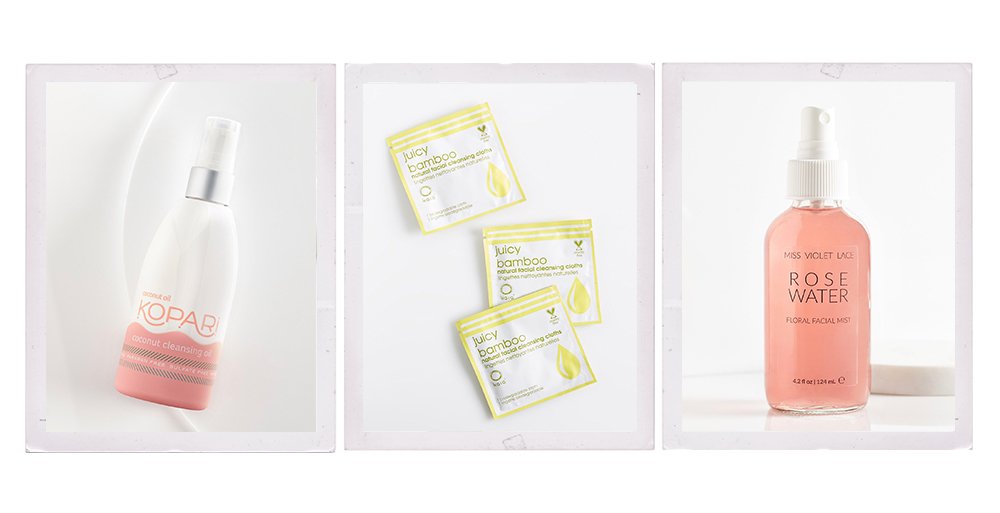 + Is there something in your beach bag that we left out? Let us know in the comments below!  
Check out other articles by Allie White here!