Like that trusty pair of jeans you've had for years — always there if you need 'em and make you look amazing every single time you slip into them…
Let's assume that since you're reading this, you're a fan of skincare products. And let's also assume that if you've shopped around for something new in the past year, you've come across any number of skincare products that contain hyaluronic acid. And let's also assume that you're like, "wow, this stuff seems to have popped up overnight and is now in every skin product I see!"
Well, you know what they say about assuming things… Because even though hyaluronic acid may seem like the newest miracle ingredient to hit the skincare industry, it's actually been around for a long, long time. HA is kind of like that trusty pair of jeans you've had for years but sometimes forget about. They're always there if you need 'em and make you look amazing every single time you slip into them, but they often get shunted to the bottom of the pile in favor of buzzier new items.
So hyaluronic acid's recent moment in the spotlight? It's well-deserved. Now bear with me because there's quite a bit of science involved in how this stuff works, but because I know you're smart enough to handle the big words and because understanding how and why your products work is definitely important, I'm gonna give you the whole spiel. Here's the deal.
What is it?
First fun fact of the day: Hyaluronic acid isn't actually acid. It's a sugar that naturally occurs in your body. I know we've been told that internal sugar can mess with our skin, but HA is the exception (it's also not "sugar" the way you think of it, so just go with it, k?). You have it in your joints, your eyes, your skin…any part of your body that needs lubrication to thrive contains hyaluronic acid.
How does it work?
Second fun fact: This goo can absorb up to 1,000 times its weight in water. Imagine a dry sponge that weighs one pound that suddenly has the capacity to absorb 1,000 pounds of water. Of course, HA molecules are much smaller than a sponge and weigh far less than one pound, but that visual should give you a pretty good idea of just how intensely hydrated HA molecules are.
So all that hyaluronic acid that occurs naturally in almost all of your skin cells? It's holding onto moisture, acting as a cushion to keep it trapped just below the surface, consistently feeding your with moisture. And when water is introduced your skin cells swell and lead to more plumped, smoothed and hydrated skin. A win-win-win if you ask me. (The fancy term is "humectant," which means something that pulls water from its environment into your skin.)
Of course, as with most bodily functions, our HA production decreases as we get older, so the more of it we can get now, the better we'll look and feel down the line.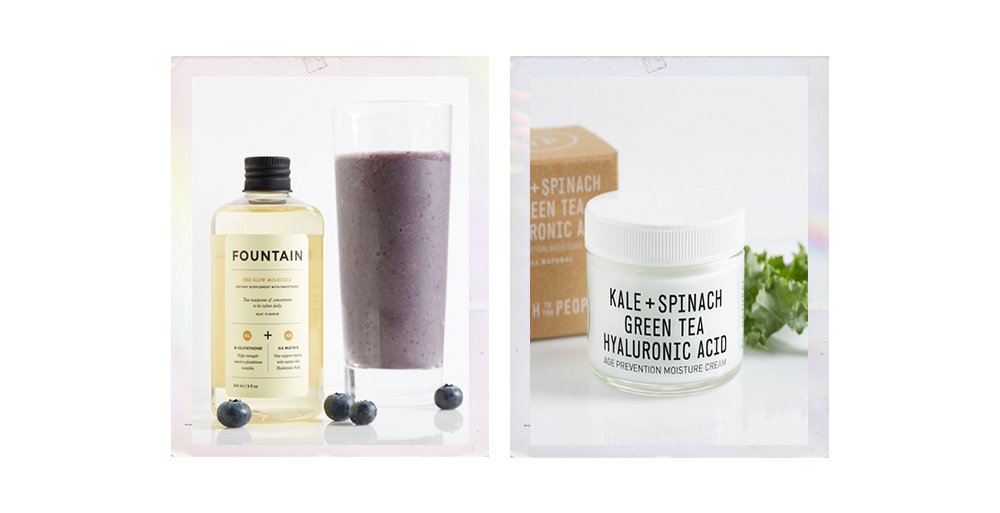 Why does it work?
Once upon a time, hyaluronic acid molecules were too big to penetrate to the skin's deepest layers, meaning only the skin's surface was benefiting from topical HA. But thanks to the wonders of science and what I imagine to be a "Honey, I Shrunk the Kids" situation in a lab somewhere, things are a little different now ("little" being the operative word): low molecular weight HA—made from synthesized HA—is widely available and what most effective skincare products contain. This lower molecular weight means the molecules are smaller and so are able to not only moisturize the top layer of skin, but also penetrate into the other layers to plump 'em up. Science!
How can I get more?
As with most things beauty-related, the best way to increase HA production is to eat it. Leafy greens, animal protein, bone broth…all excellent, natural sources of the stuff. Fountain also makes it incredibly easy to get an extra dose with their Molecule formulas, specifically The Glow Molecule. This concentrated supplement couldn't be easier to incorporate into your morning routine—two tablespoons in water, juice, a smoothie, etc., and you're done—and the levels of hyaluronic acid will have strangers asking why you're glowing.
Of course, you can apply it topically. Before I offer up some suggestions, it's important to note that you should be layering your HA products with emollients like creams and oils. Why? Well, hyaluronic acid is often combined with other runny humectants and water so the HA can bind with that water and deliver it to your skin. Sounds great, right? BUT! Despite absorbing quickly into the skin, that lightweight hyaluronic acid/water combo has a tendency to evaporate if not properly locked in, negating the whole hydrating effect. So just be sure to lay down your HA serum of choice, and then top it off with a thicker product to seal in that moisture.
One way to combine both is with Youth to the People's Moisture Cream. Since it contains hyaluronic acid (amongst other powerful humectants like collagen and aloe extract) and is also an emollient (thanks to sunflower seed oil), there's no need to layer. You're getting all the plumping, protective goodness in one jar. This stuff is also packed with vitamins A, C, and E, kale leaf extract, spinach leaf extract, green tea and chamomile, so it's an antioxidant madhouse as well. It's light enough to use under makeup during the day and also potent enough to layer with other products at night.
If you're more into the idea of a multi-step approach to hyaluronic acid, check out Joanna Vargas' Daily Serum. This lightweight formula is like a green juice for your face: it's infused with oat grass juice for your lymphatic system, chlorophyll for oxygenation, vitamins A, C, E, and F to fight aging, and, of course, hyaluronic acid for hydration. With regular use, it leaves skin soft, smooth and glow-y (thanks, HA!). Just remember to layer it underneath something thicker to make sure all these gorgeous, skin-loving ingredients stay put and get to work.
While hyaluronic acid is most effective when used regularly and over time, there are those days when you need a quick fix, an extra punch of moisture to your face. Should that need ever arise for you, the Night Replenishment Treatment from Modern Naturals has you covered. As the name suggests, the formula is meant to be used overnight as a way to hydrate and revitalize your skin in a pinch with its concentration of jojoba oil, squalene and hyaluronic acid. Sleep tight, glowing beauty!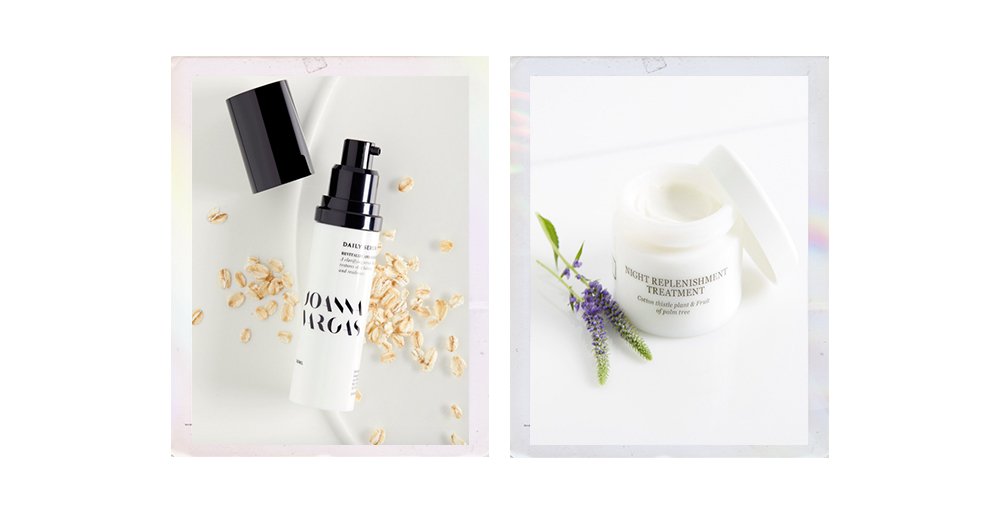 + Want more beauty tips? Check out other articles by Allie White here!