Leaving nature the way you found it — without a trace of you or your skincare products…
Yes, camping and hiking are meant to get you back to nature, but the whole "roughing it" aspect doesn't have to be an all-or-nothing thing. You can spend time in nature for days at a time, sleep on the forest floor beneath a starry sky and still take care of your skin.
Sure, maybe you forage for lavender and stumble on some bentonite clay in a riverbed and mix it all together with the wild-harvested honey you got from the swarm of bees who you befriended after the sparrows who braided your hair around a flower crown introduced you for a truly natural mask… but, in the event that doesn't happen, here are a few ways to maintain some semblance of a beauty routine while still packing light and leaving nature the way you found it: without a trace of you or your skincare products.
As much as I love a good cleansing wipe in a pinch, they're pretty wasteful. A little extra time and elbow grease, and your face will be just as (if not more) cleansed and grime-free with a balm cleanser like the Skin Savior Multi-Tasking Wonder Balm. Not only can it pull double duty as a cleanser and moisturizer, meaning one less product for you to pack, but you can also use it in a pinch on your body (looking at you, blistered hiking boot feet!) When the glass jar is empty, recycle or reuse it—it makes a great place to stash loose hair ties or cotton swabs, or as a container for that DIY deodorant you've been dying to make.
Another camping-friendly, trash-free way to refresh your skin is with a toner. If your skin is finicky and doesn't like to be away from your medicine cabinet for too long, opt for one that can help keep skin balanced. Dr. Alkaitis' Organic Herbal Toner is packed with witch hazel, nettle, wild chamomile, myrrh, rosemary and fennel, so it's basically like spraying your face with a forest-worth of cleansing, calming, toning herbs. For better-behaved skin, a simple hydrating mist will do just fine. Pangea Organics' Facial Toner is a nurturing, restorative way to keep your face from getting thirsty, especially if you're hiking in the sun or a dry climate. Again, both bottles are 100% recyclable and would make very useful succulent spritz bottles if the mood strikes to garden when you get home.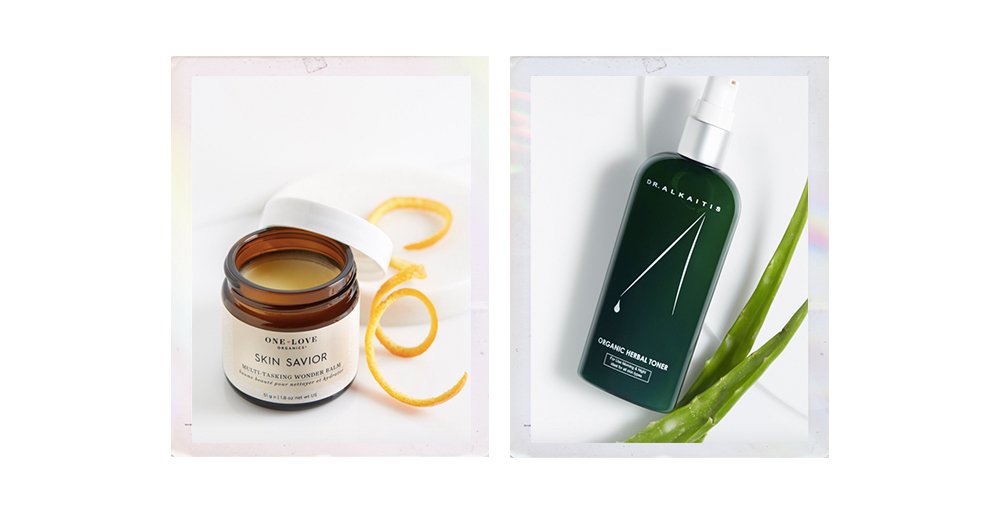 And if you're really committed to your skincare regimen in the wilderness, a konjac sponge is an easy addition to your kit. It's almost weightless when dry and can help remove that cleansing balm while also offering gentle exfoliation. My guess is you might need it to get that inevitable hiking trail film off your face at the end of the day. Bonus: Konjac sponges are actually plants, so are compostable when it comes time to get a new one in a few months!
Now, onto hair. Yes, you can throw it into some pigtail french braids which will look cute for the first couple of days and then inevitable frizz up and start to itch by the end of your camping trip and probably lead to a sunburnt scalp but hey, they keep hair out of your face and off your neck! If you're more of a ponytail/hair down/protective hat/less-itchy head kind of lady, dry shampoo is your best friend on the trail. It's small, it's portable, it's lightweight and it'll soak up whatever nature-y oils have taken up residence on your head while you trek through the wilderness.
One that I have actually used outdoors before—granted, it was while running work after a yoga class that went long—is Yarok's Feed Your Style Dry Shampoo + Styling Powder. The arrowroot tapioca powder absorbs excess oil, the aloe leaf powder moisturizes so your scalp doesn't get itchy andy dry (and your hair doesn't get TOO frizzy), and the french green clay acts as a mild cleanser so when you do finally get to take a shower, you're not "lather, rinse, repeat"-ing for days. All the ingredients are also 100% natural so you don't have to feel guilty about some accidentally spilling on the forest floor.
All this said, camping and hiking absolutely don't require a cadre of beauty products. If some facial mist and dry shampoo help you feel more like yourself which leads to you being more at one with nature, then, by all means, spritz away. Rough it or don't. Wash your face or don't. Do what feels right for you, dirty hair be damned. You're outside, taking in the wonder that is this (one and only) Earth—appreciate it and leave it the way you found it.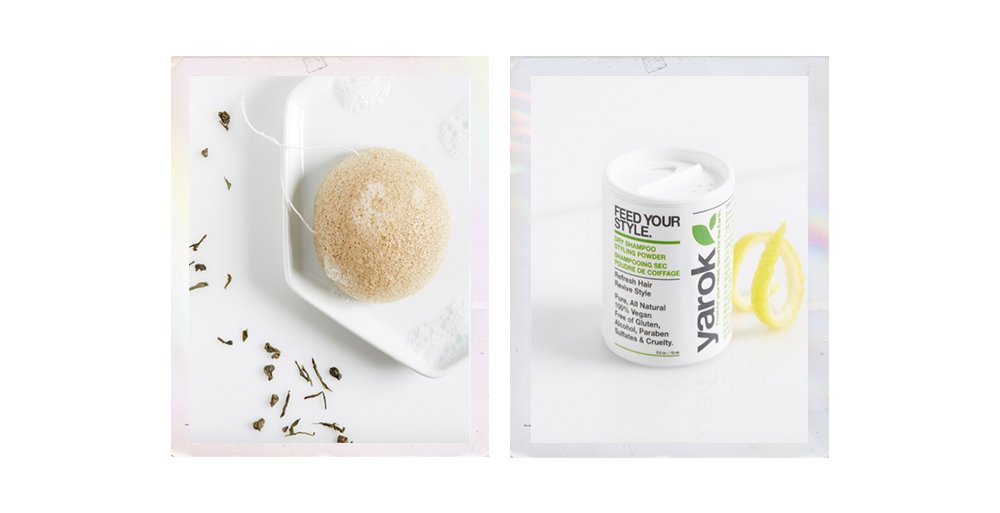 + Lover of all things nature? Read about our partnership with the National Park Foundation! 
Don't forget to check out more articles by Allie White here!
Lead photo by Mirae Campbell.