Switch up your dental hygiene routine with some natural, tooth-friendly recommendations…
You might think this is a hyperbolic statement, but there is truly nothing I hate more than the feeling of dirty teeth. Every single morning, the first thing I do after waking up (yes, even before peeing) is brush my teeth. Then I brush again after lunch or something particularly sugary. And then again at night along with a healthy dose of floss and mouthwash.
Blame it on a particularly traumatic five-cavities-at-once visit to the dentist a few years ago but oral hygiene has earned a spot in my list of most-important self-care practices.
But here's the thing: when you do something two-to-three times a day, every single day, it can get a little boring. No, brushing and flossing isn't supposed to be fun—if it was, everyone would do it regularly and there would be a lot of out-of-work dentists—but there's no reason it can't at least be interesting. And the easiest way to make something interesting? Switch it up!
If you're looking for a little dental hygiene shake up, read on for some tooth-friendly recommendations. Your gums can thank me later.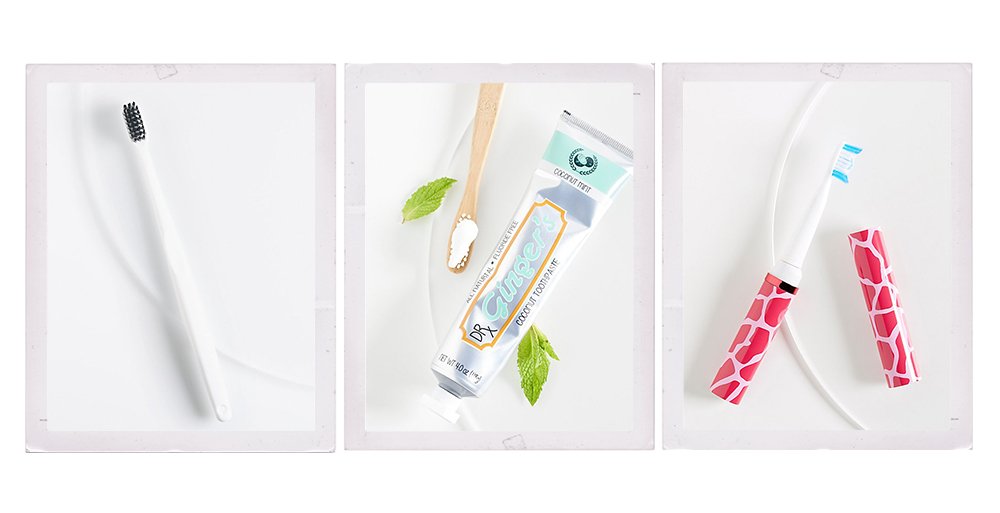 THE 'GEAR'
If you're an electric toothbrush devotee, it's always a bit sad when you're packing for a trip and know you can't bring the whole setup along. Enter Pop Dental and their perfect-for-travel, battery-operated Sonic Toothbrush. Aside from the super-cute patterned cases, the vibrating bristles are contoured to ensure a seriously deep clean on the go (or at home, your choice).
Looking for something a bit more analogue? The Binchotan Charcoal Toothbrush from Morihata may look simple but its strength lies in its ability to clean not just your teeth, but your whole mouth. Thanks to the activated charcoal-infused bristles the toothbrush deodorizes the mouth and prevents bad breath (remember, activated charcoal sucks up all the bad stuff around it!) while removing plaque. Oh, and it's also antibacterial.
THE 'CLEANSER'
Yes, toothpaste is a pretty natural addition to any oral care routine, but if like many people, you're sensitive to SLS (a chemical foaming agent found in many conventional toothpastes that can cause perioral dermatitis), a tooth powder may be a better choice. It may feel a little old-timey but once you get the hang of it, Fig + Yarrow's Tooth Powder is actually a therapeutic part of daily oral care. Thanks to baking soda, kaolin clay and Dead Sea salt, your chompers stay clean and white, while aloe supports healthy oral microflora (the good bacteria!), licorice root works to eliminate the bad bacteria, and neem keeps your gums healthy and breath fresh.
Not ready to pour powder on your toothbrush? Understood. Dr. Ginger's Coconut Toothpaste or Goodwell Co.'s Pacific Mint Toothpaste may be more your speed. Both have the familiar squeeze tube you're used to, but trust when I say the ingredient deck is much more inviting than a conventional paste. Both are totally free of synthetic ingredients, preservatives, colorants, carrageenan, surfactants and synthetic fluoride (which should make you feel a whole lot better about washing it down the sink and into the world), instead relying on coconut oil and naturally-derived hydrated silica, respectively.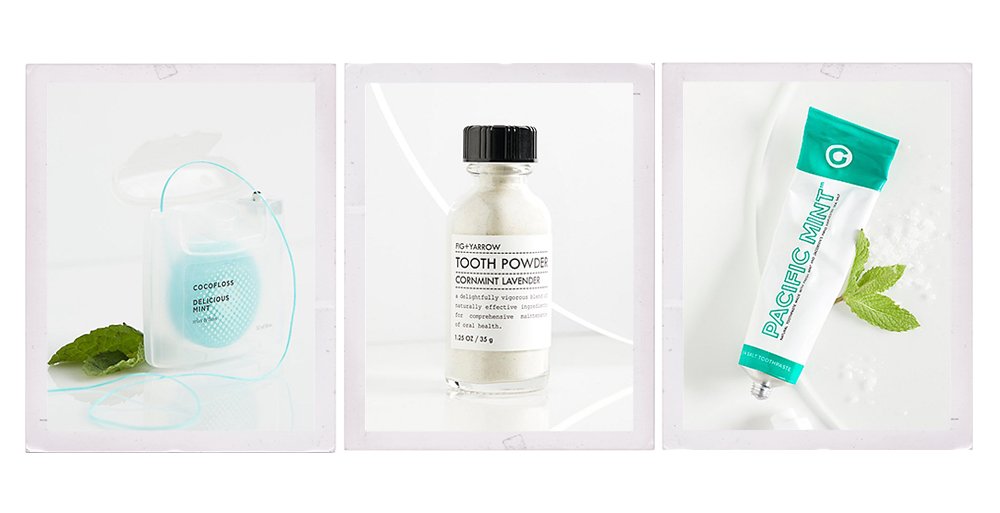 THE 'WASH'
We know mouthwash is something we should do post-brushing, but thank to the incredibly harsh flavor of most conventional products, it's easier said than done. Which is why Fig + Yarrow's Oral Hygiene Rinse is such a revelation. A blend of pure, natural ingredients like aloe, menthol, birch xylitol, witch hazel extract, green tea extract, and peppermint, basil and cinnamon essential oils makes this downright drinkable (but don't drink it!).
If you think you're ready for a totally new experience, consider oil pulling. It won't take the place of brushing and flossing, but it will help brighten teeth and promote healthy gums. (Oil pulling primer: You swish coconut oil around in your mouth for 10 minutes and it cuts through plaque to remove toxins without hurting teeth or gums.) The Pulling Oil from keeko and Peppermint Oil Pull from Skinny & Co. are both great options, particularly because they are flavored which makes the act of moving warm, melted oil around your mouth for a prolonged period of time a bit easier to get used to. 
THE 'ACCESSORIES'
 I don't actually consider floss an accessory—it's a pretty integral part to a complete oral care routine—but natural flosses have gotten so dang cute it's hard to think of them as the annoying final step you're supposed to take after brushing, rinsing and pulling.
Case in point: Cocolab's Cocofloss. The cleansing, soft, coconut oil-infused dental floss comes in four truly delicious flavors (Pure Strawberries, Fresh Coconut, Cara Cara Orange, Delicious Mint) that actually make you want to shove a string between your teeth repeatedly. The soft filaments scrub plaque and grime from your pearly whites, leaving your gums clean and relaxed thanks to the soothing properties of coconut oil. It's also free of parabens, sulfates and phthalates, and is vegan, cruelty-free, and formulated without gluten…as if you needed another reason to use it.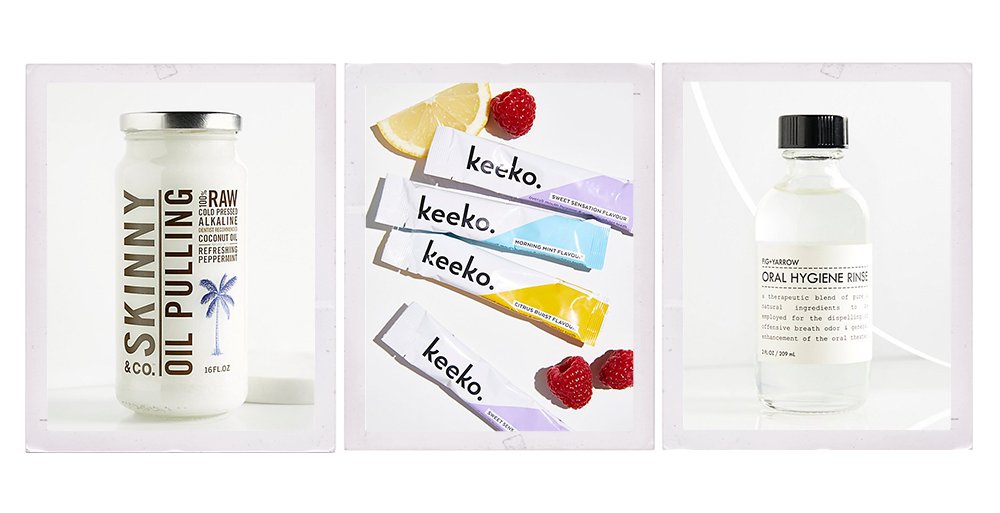 +Want more on inner and outer beauty? Check out more from Allie White here!