Celebrity makeup artist Omayma Ramzy sounds off on why the adorable packaging isn't the only reason to fall in love with every lip-hugging option…                                                                      
"The first thing I'd like everyone to know about Winky Lux is that not only is the packaging super cute, but the products work amazingly!" makeup artist Omayma Ramzy shouts in her everything-sounds-charming British accent as we talk about the brand's new launches, a gilded capsule of 24kt Gold Glimmer Balm and one adorably holographic Pixie Kit grab bag.
Omayma. Photo by Michael Blank.
"I first stumbled upon Winky Lux in my friend's makeup kit, and then of course fell in love with their pill packaging and glimmer balms—I'm obsessed," Ramzy admits of fueling the line's internet-breaking Flower Balm frenzy. The UK-born, LA-based beauty master, known for perfecting the highly lensed faces of clients like trip-pop singer CYN and actresses Georgie Flores and Marisol Nichols, isn't even associated with the brand, she's just genuinely infatuated with their famous balms' natural finishes and foolproof results. Below, her artist's guide to maximizing every perfect, paraben-free swipe:
"Everyone obsessed over the Glimmer Balm… we know, we KNOW — cute packaging, perfect shimmer — but the 24kt Gold Glimmer Balm is just beyond," Ramzy shares of the luxe new gold-on-gold capsule that she deems "your new bestie." With its natural vanilla-infused coconut scent, the sparkling bullet reacts to your personal pH levels for a dreamy your-lips-but-better shade. "Its pH magic gives you the perfect-for-you pink, and then takes it to the next level with a subtle gold glimmer over for a subtle, shimmery win." Consider it a warmer option to its older sister's icy sheen.
PRO TIP: "I love using this on its own, or even using it to reactivate any lipstick when you don't have all the time in the world to re-perfect this morning's lip."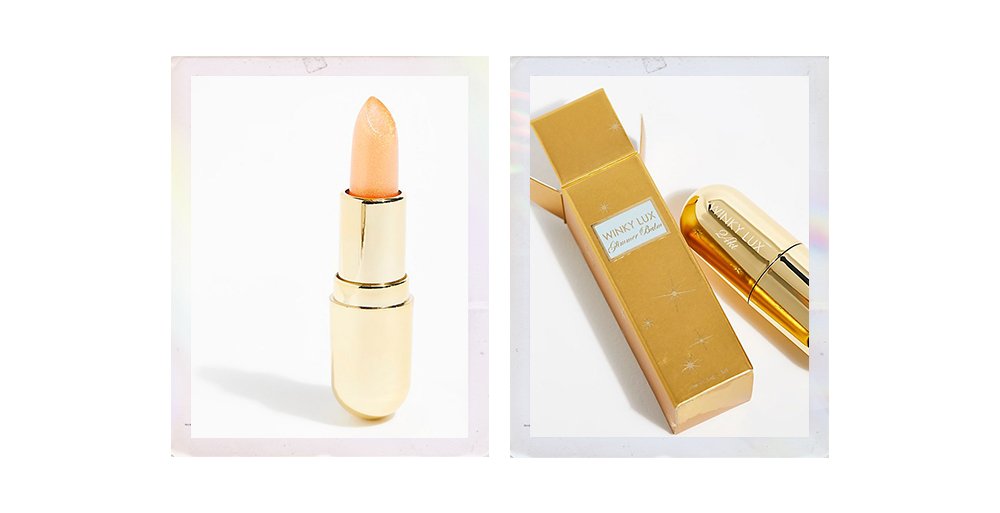 "A Perfect Little Lip Kit": The Pixie Kit 
"Let's face it, one lip just won't do for every aspect of your day-to-day, day-to-night routine," Ramzy declares of the need for a failsafe-yet-highly-edited mix of shades and finishes. With three full-sized options including the coveted Flower Balm (color-changing technology encasing a real chrysanthemum), Glossy Boss tube in Juicy (infused with food-grade vanilla and nourishing Vitamin E), and Glimmer Balm (unicorn-inspired with a touch of "galactic glitter"), the kit checks every sheer, believable box for effortless, healthy color. "It's a perfect little lip kit — who doesn't love making effortless easy?!" Ramzy enthuses of the full package. "The Glossy Boss is the perfect 90s shade — natural, but more. You can wear it thin or layer it on heavy, I love a glossy lip with a slightly matted skin for contrast and this one does the trick perfectly," she shares of the time-traveling lacquer. "I'm a big multi-use fan, which is why the Glimmer Balm is also a must — I love adding this over my favorite lipstick for the perfect natural shimmer." And who could resist the appeal of its portable fairy wand aesthetic?
PRO TIP: "I like using the Flower Balm in a fresh daytime look, with clean skin and a bit of shimmer on my eyes. A great little trick I like to do is to blend a small amount onto my cheeks when I'm in a rush and ta-dah! You also have the perfect dewy blush."