Way before it become a #trend, Ere Perez was bottling botanical cheek tints and healing elixirs in her native Mexico. Now, her sophisticated range has finally landed in the U.S., and she's giving us an inside glimpse into how it all came to be.
Superfood-infused beauty products might be everywhere at the moment, but Ere Perez has been mixing up vitamin-infused remedies since she was a child. The Mexico-born skin-care and makeup founder grew up watching her grandfather — a local medicine man — concoct plant remedies and her mother taught her to rub beetroot on her cheeks as a natural spin on blush. All that good training inspired Perez to launch her own line, which she did shortly after settling in another botanical-rich destination, Australia.
Perez's brand of non-toxic, vegan, antioxidant-packed essentials — everything from foundation spiked with inflammation-calming quinoa to strengthening almond-oil mascara to her now cult-favorite beetroot cheek and lip tint — have freshly arrived on our shores. Here, Perez takes us inside her dreamy wellness world and shares her creation process.
Where did your interest in beauty come from?
"I grew up in Monterrey, a beautiful place in northern Mexico. I was always interested in natural remedies from my grandfather, who was a medicine man. Also my grandmother was so good at reusing everything — nothing went to waste! Their whole life was like a wellness dream! My grandmother is still alive, at 98 years old and still making dresses for my girls! On the other side of my family, my grandparents were chemists who had a laboratory. I was born surrounded by incredible energy and a warm family."
What kinds of beauty products did you use in Mexico?
"I used beetroot on my face, as my mom did not want me to use chemicals. There was no natural makeup available when I was growing up. It really didn't exist yet."
What inspired you to launch your line, and move to Australia?
"Ere Perez came from my dream of combining natural health with beauty. I knew how many toxins were in traditional makeup and I wanted to give women a healthy alternative. I have sensitive eyes and can't live without mascara — I look sleepy! So it was actual need for me. I followed love to Australia, when my fiancé moved from Mexico. I studied natural therapies before I moved and have a degree on nutrition — which is why each of our products has a beautiful edible hero ingredient."
Where do you the source your natural ingredients?
 "Our ingredients come mainly from plants all over the world. We are proud to use Australian native ingredients such as quandong and blue cypress in our botanical skincare. We create natural formulations that are safe and have the performance and beautiful texture that any mainstream chemical brand can offer."
Talk us through what's special about the Ere Perez products we have in stock at Free People.
"The Quandong Green Booster is a serum and green smoothie for the face, full of superfoods. The Quinoa Water Foundation is a lightweight foundation and perfect for every day. The Beetroot Cheek & Lip Tints deliver vibrant long-lasting color and they even last through sports (yoga, swimming!).
The Natural Almond Mascara launched our range 13 years ago — it smells amazing, is good for sensitive eyes, and has become our most loved product. The Avocado Waterproof Mascara is one of the only natural waterproof mascaras on the market and the Aloe Gel Lash & Brow Mascara is so good for taming eye brows as well as giving shine to lashes (it's also a night treatment for lashes)."
Do you have a favorite or product that you constantly reach for?
"That's such a hard choice; I love them all! But I wear the Almond Mascara every day. It's my go-to… I have one in my handbag, another in the car. It always comes to the rescue when I need to quickly give my face a boost. My lashes are long but straight, so has a good curling effect, too!"
How do you practice self-care when life is so busy?
 "Life can be busy, that's for sure. I am the creative director of our brand, plus a mom to three gorgeous and fun children. For me, I make sure I eat healthy, balanced, clean food and get out into the fresh air. I'm learning not to sweat the small stuff. You can't make a big deal over everything in life; it's not worth the stress."
What's the best makeup trick you've learned over the years?
"Definitely that less is more. I remember when the fashion was to wear thick layers of foundation, to cover over skin and make everything look false. Thank goodness trends have changed. These days, it's about allowing natural radiance and healthy beauty. One of my best tricks is to smile and dab a little tint on my cheeks—it really brings youth."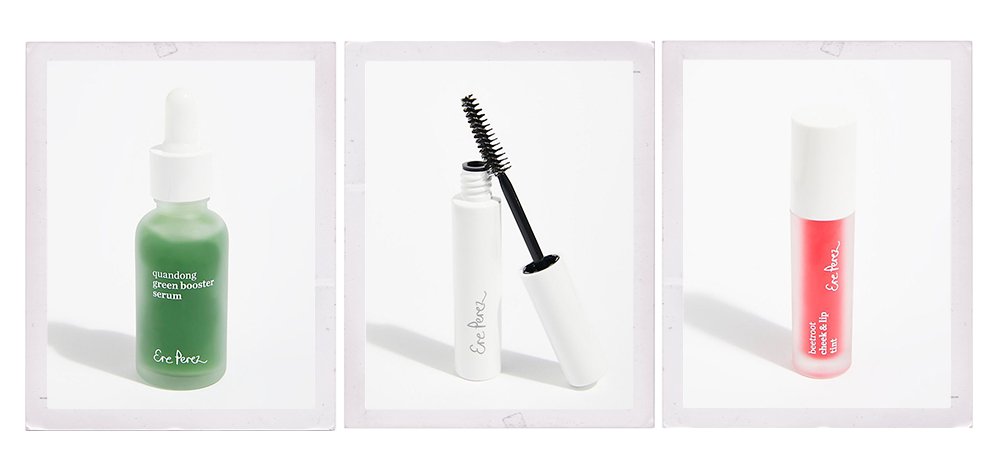 + Click here to shop and discover the Ere Perez collection.