"Just like organic farming is better and more nutritious for people's health, our toothbrush is better for your wellness and personal impact on the environment…"
Brushing your teeth is often a mindless act — something you do when you're in semi-conscious state, either half-awake or half-asleep. But this small, seemingly mundane part of your daily routine can have a major impact on the environment. Just consider the Great Pacific Garbage Patch , a large floating island of plastic waste that's drifting in the oceans north and south of the equator, and made up of non-biodegradable items — like your toothbrush. This eco-revelation and others inspired Patrick Goodwell and Aaron Feiger to launch Goodwell + Co, a sustainable oral care company that's all about creating products that won't clog and pollute the earth. Here, Patrick talks about disrupting the act of brushing up, one activated-charcoal toothbrush at a time.
You graduated with a degree in product design and mechanical engineering. How did that lead to launching a sustainable startup?
The "aha" moment was when I came back from a work trip for my previous employer. I was overseas working on a consumer electronic product, thinking to myself, "Is this the legacy I want to leave? Why is consumerism and manufacturing so wasteful? What products to people use every day that could make a big impact?" The rest is history.
You've developed a loyal following for your Bamboo + Binchotan brushes. What's so unique about them?
When most people look at the brush, they always mention the black bristles, not really understanding that the black bristles are that way to serve a function, not a decoration. The bristles are blended with activated charcoal, which has been used for things like air and water purification for years. Now imagine that same purification inside your mouth – activated charcoal bristles deodorize bad breath, balance pH in your mouth and fight germs that cause tartar and halitosis.
How does this translate into a better toothbrush for us and the planet?
Just like organic farming is better and more nutritious for people's health, our toothbrush is better for your wellness and personal impact on the environment. Our materials are natural and all biodegradable, unlike the plastic toothbrushes that people own that will still be around in 500 years.
Where do you source your materials from?
We try to make as much as we possibly can in-house — we are based in Portland, Oregon— or as close to our headquarters as possible in Utah and Ohio.
How often should you replace the brush and what's the best way to dispose of it?
I've had customers use one of our brushes for a year — I don't recommend that, but they told me that they wash it in a little hydrogen peroxide every month and it's held up! We typically go with the ADA's recommend replacement cycle of every two to three months. To dispose, you have some options: 1. Compost it or bury it. If you have the means, give it back to the earth. Or 2. Toss it in with your other trash — it will decompose rapidly in a landfill.
Tell us about Goodfloss: How is it different from traditional flosses?
Goodfloss was a product that came to be when we started asking people about flossing, and we noticed that there was a huge problem that none of the other flosses out there was solving. The problem is, when and where people need and want floss: it's typically never at the end of the day, in their bathroom. Instead, people need floss when they are out, at dinner, lunch, the movies, about to step into a meeting, etc. So we designed a product that is meant to be portable. It's the size of a credit card, so you can put a card of them (which contains 4 flossers and toothpicks ) in your wallet, in your purse or in your pocket, and have it with you at all times. The material is made from our proprietary blend of essentially vegetable starches and bamboo, so it's 100% biodegradable, vegan, and never tested on animals. Our floss is also made with organic cotton.
What's the hero ingredient in your chemical-free Pacific Mint Toothpaste, and can it really whiten and freshen your mouth like a mainstream paste?
Here is something most people don't really know — sea salt actually contains small amounts of natural fluoride. It also aids in agitation, so I would claim that our toothpaste works just as well as any of the mainstream pastes out there.
How can we all turn brushing our teeth into a moment of self-care? How do you make the act more enjoyable and less of a chore to do twice a day?
A wise and inspirational woman in my life once told me that everything you own should bring you joy. My advice would be to minimize your life and the things in it, so that everything you do, every single day, will bring you joy.
Do you have any other habits or wellness tips that you swear by?
Physically propel your own body at least 6 miles a day via your feet, a bike, a boat, or other means of carbon-free transportation, and drink more water!
What's next for Goodwell + Co?
We have been working on a new toothbrush for the past two and a half years that we plan on launching on Kickstarter later this year. We're calling it Be. It stands for Beyond Electric and will be our alternative to electric toothbrushes. Stay tuned!!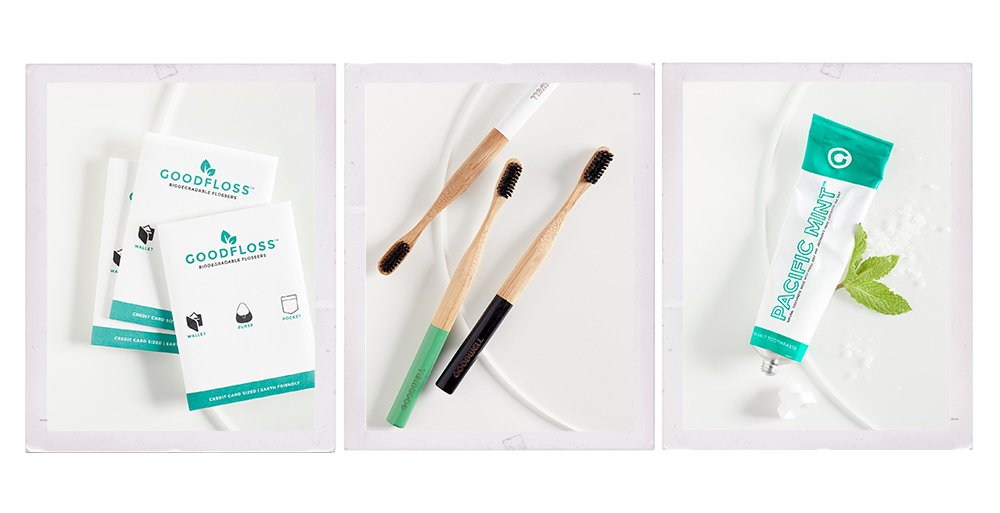 + Shop all Goodwell + Co products here!