Vida Glow: a powdered supplement that can boost your hair, skin and nails in as little as three weeks. Drink up!
Ok, there are a lot of supplements out there. And Anna Lahey spent six years trying almost them all, in the hopes of improving her dull skin, brittle nails and fine, limp hair. Nothing worked. Then the story takes an interesting turn. While on vacation in Japan, a pharmacist suggested she take marine collagen. The natural protein derived from fish scales is something of an insider secret among Japanese for their glowing skin. Lahey figured, at this point, why not give it a shot?
Within three weeks, Lahey started to notice significant changes. For starters, her skin wasn't so dry and patchy — instead, it looked more hydrated and plumped. Then, her hairstylist remarked on how much her hair had grown and how much thicker it had gotten since Lahey's last visit, so much so that she gave up her extensions. Even her nails, normally so weak and splintery that she had to cover them up with acrylics, began to look normal and healthy again.
Now there's no such thing as a miracle cure — but Lahey was convinced that marine collagen was the closest thing to it. At first, she took three servings a day, for a total of nine grams. Then for maintenance, she alternated between one (three grams) to two (six grams) servings a day. Totally inspired by the results, Lahey wanted to take marine collagen mainstream, and make it more accessible outside of Japanese pharmacies and health food stores.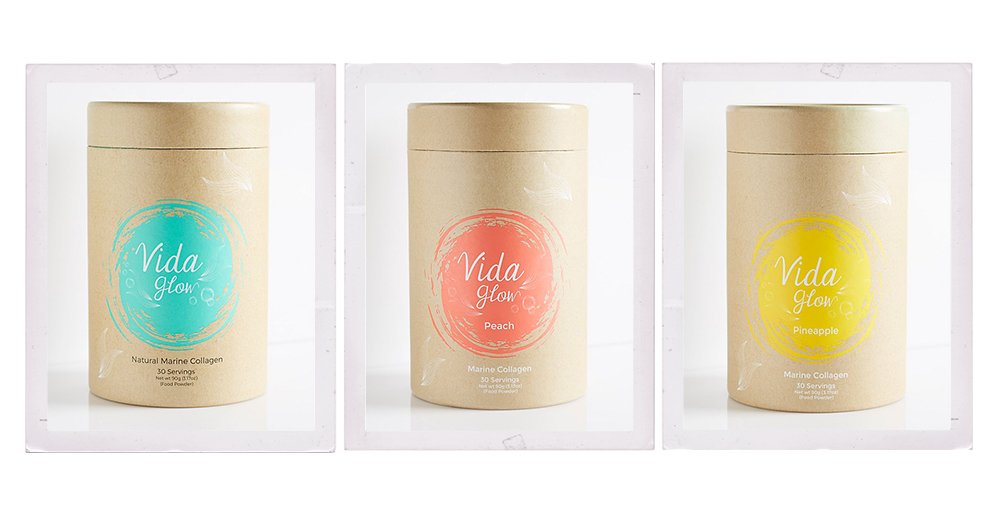 Enter Vida Glow, Lahey's newly launched collection of marine collagen powders — made from pure hydrolyzed protein to maximize their bioavailability — that you can easily blend it into your favorite drinks and foods (smoothies, tea, yogurt). The collagen is extracted from the scales of Deep Sea Red Snapper, sustainably sourced from Pacific Ocean waters of Australia, and free of any heavy metals, toxins or pollutants. Taken regularly, Lahey says the supplement improves skin elasticity by increasing the density of fibroblasts — the cells responsible for rebuilding connective tissues — to firm skin, bump up hydration, help muscle repair, thicken hair and nails, and generally make you radiant all over.
And if you like your collagen with a touch of flavor, Lahey introduced fruit-infused blends, including peach and pineapple (yum). As we head into the season of dry weather and cold air, consider this your natural remedy — no passport required.
+ Shop all of Vida Glow supplements here!