You depart with a totally clear, luminous face and land looking like an extra in a zombie show with a fresh bloom of blemishes across your chin. The culprit? The air in the cabin. And here's what you can do about it…
Not to sound totally trite and annoying, but isn't travel just the best? Seriously…you start the day in one place and end up in a new city, state, or country in a matter of hours. And despite the ever-shrinking airplane seats and the $15 bottles of water you'll buy in the airport while killing time since your plane is inevitably late, it's all worth it if it means you get to experience new cultures and people and food and places.
What may not be worth it? The havoc plane travel can wreak on your skin. You know what I'm talking about: you depart with a totally clear, luminous face and land looking like an extra in a zombie show with a fresh bloom of blemishes across your chin. The culprit? The air in the cabin. Yes, you're hurtling through the sky in a metal tube of recycled air, which means anytime someone sneezes or coughs or is at all germy, it can end up on your face. But what's more impactful is the lack of humidity on a plane: cabin air is usually less than 20% humidity while the air your skin is used to in everyday life is 30% or more. Your skin gets thirsty on a plane and the lack of moisture means it'll dry out way faster.
So what's a globetrotting gal to do to ensure she lands looking as fresh and gorgeous as when the plane took off? Here ya go!
Drink a TON of water.
Seriously, a ton. I don't care if your flight is one hour of 24 — drink up. Not only will a constant source of water make sure your skin is staying properly hydrated, it will also help cut down on any bloat you might experience due to the combination of cabin pressure, being cramped in to a small seat, and the extra-salty food they'll likely serve during the flight.
Another tertiary benefit? You'll have to pee. I know, I know — airplane bathrooms aren't the best and it's annoying to ask your row mates to move when you need to go, but the urge to pee also means you're getting up regularly to stretch your legs and get the blood flowing. (PS – Good circulation means healthier skin!)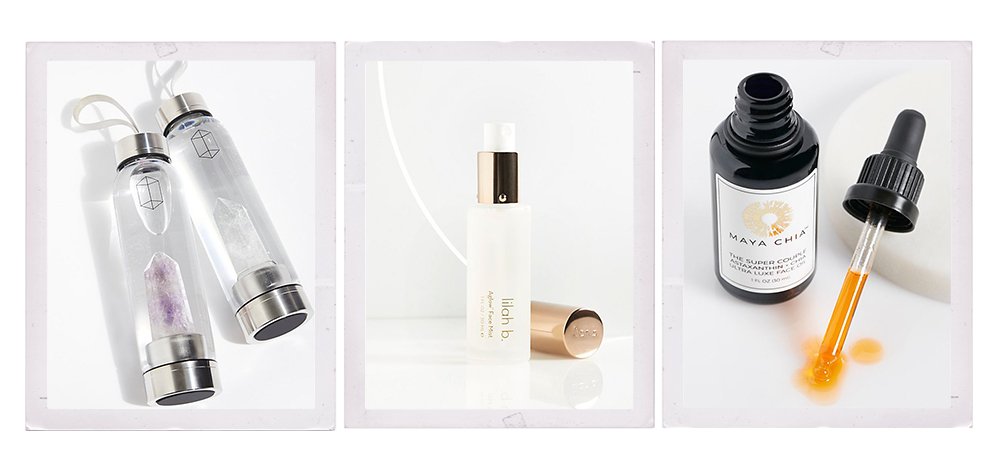 Take off your makeup.
No one looks amazing on a plane so get over any insecurities you have about being sans-makeup in public. Taking off your makeup before you board (or before you leave for the airport) is the single-most important thing you can do to ensure you land with skin your recognize.
That low humidity I talked about before? It leads to crazy-dehydrated skin that can cause tiny tears in the skin. If you've got makeup on and microfissures form, you're basically baking makeup into your pores. A layer of makeup will also trap grease, dirt and dead skin cells in your pores, blocking their ability to breathe.
The simple solution is to just not put makeup on the day you fly. Cleanse and moisture normally in the morning, and be sure to pack a soothing mist and calming facial oil in your carry-on to apply once you board. (Just make sure you have a travel size or one that passes the 3.4 oz rule.) If it's a long flight, reapply every few hours or when you start to feel dry.
Can't bear the thought of going through security without some coverup on? I feel ya. Either break out your toiletries in the bathroom near the gate and full cleanse, or harness the power of a makeup wipe once you find your seat.
Don't forget sunscreen.
That's right — you can get a sunburn on a plane. Whether or not you're in a window seat, don't skimp on SPF. UV exposure increases significantly at 30,000 feet and the more you fly, the more it can impact your skin.
Embrace the sheet mask.
I promise you won't be the only person on the plane who looks like a serial killer if you sport a hydrating sheet mask mid-flight. Choose a mask packed with hydrating ingredients like hyaluronic acid and avocado, pretend you're asleep for 20 minutes so you don't notice the weird looks you're getting, then toss it. Not only will you be one item lighter in your carry-on, but your skin will be tremendously hydrated and happy.