It's our pleasure to bring you the story of Smile Makers, a company priding itself on "pushing towards a world where sexual pleasure is a social right for all women."
A Q&A with Peder Wikström, founder of Ramblin Brands… Peder teamed up with his old colleague Mattias Hulting to launch Smile Makers in 2013. The idea was simple – the best product experience, a brand that women can love, promoted and sold in everyday environments. 
Share a bit about how you started your company…
The idea to turn the sexual wellbeing category on its head took many years to materialise. The first seed was planted one rainy Saturday in April, 2002, when I walked into a sex shop to buy a vibrator and was completely turned off by the experience. Everything felt tasteless and offensive, and nothing felt designed for real women. To be honest, the experience felt unfair and disparaging to women.
Years later, we discovered that half of all women in the US own a vibrator and most of the women who don't are interested in purchasing one. We wondered, how could the available products and shopping experience be so awful despite the demand? For example, if you wanted to buy a new face cream, phone, or practically any other product, there's no shortage of fantastic brands and stores to shop from. But if you wanted to buy a vibrator, it's a completely different experience: no brand respected women and their sexual desires the way we know they should be treated.
Knowing that we had to do something about it, our team left our previous stable careers and, in 2013, Smile Makers was launched. We were inspired to create the best product experience to allow women to truly discover themselves. At the same time, we wanted to create a real brand experience. To remove the stigma around female masturbation and vibrator usage, we make it our priority to only sell Smile Makers in everyday environments and give an absolute "NO" to selling in any adult sex shop. This way we can empower the average woman to feel comfortable and confident in taking control of her sexuality.
How did you go about beginning your research? What does one do when he/she decides to make vibrators?!
From the very beginning, we knew we had to incorporate the real woman's opinion and experience while creating our vibrators. We first crowdsourced hundreds of names from 1000 women on their sexual fantasies. The fantasies ranged from the abstract like "the stranger" and "the girl next door" to actual names like "Sophie" or "Jim the Postman." However, we had to be cognizant of the different cultures and people we'd be offering our vibrators to, so we eschewed names like "the poolcleaner" and "the plumber" that wouldn't quite translate as a fantasy outside Australia or the US. Once we settled on a set of fantasy characters, we mapped associated words to the character. For instance, The Frenchman was linked with baguettes (despite our doubts of whether we should offer a vibrator resembling loaves of bread), romance, and French kisses, which is the route we ultimately went with. Finally, we connected the creative to the functional, pairing the characters to their unique feature, be it to pleasure the G-Spot or all over the body.
Can you share a bit about the materials you researched and ended up incorporating into your vibrators?
Despite its suggestive nature, the vibrator really is just another consumer good at its core. Having come from a background working with female and youth-oriented brands at Procter and Gamble, we knew that we had to maintain the strictest quality standards in our manufacturing, even though the vibrator category has not historically been strictly regulated for safety control. Given that our products would be applied on the most sensitive and intimate parts of a woman's body, only the safest materials would suffice for our vibrators. We use the best silicone on the market, cryogenically polished for the smoothest sensation, and our vibrators are free of all phthalates and other harmful materials. Through our manufacturing process, we balance safety and reliability with a premium user experience.
Do you have any advice, re: caring for your Smile Maker?
Our Smile Makers vibrators are all body safe and waterproof, which makes cleaning them after use easy: mild soap and water is all you need. Once cleaned, they should be stored in a dry and cool location.
Your go-to tip for feeling good…
Be comfortable and confident in your body. If a woman doesn't feel happy in her own skin, then it's difficult for her to be in the right mindset to be happy about anything else. Being self-confident means accepting one's whole self – mind and body – and doing whatever it is that brings joy. That might entail a good work-out, or a midnight snack, or even a mid-afternoon session with a partner, or vibrator.
Song that best sums up the Smile Maker experience…
The one song that comes to mind is "Wannabe" by the Spice Girls. Based on the wholly positive reception of our brand and mission, I'd say that we've created products that women really want, and I think they've added a little "zig-a-zig-ah" into the lives of women and couples around the world.­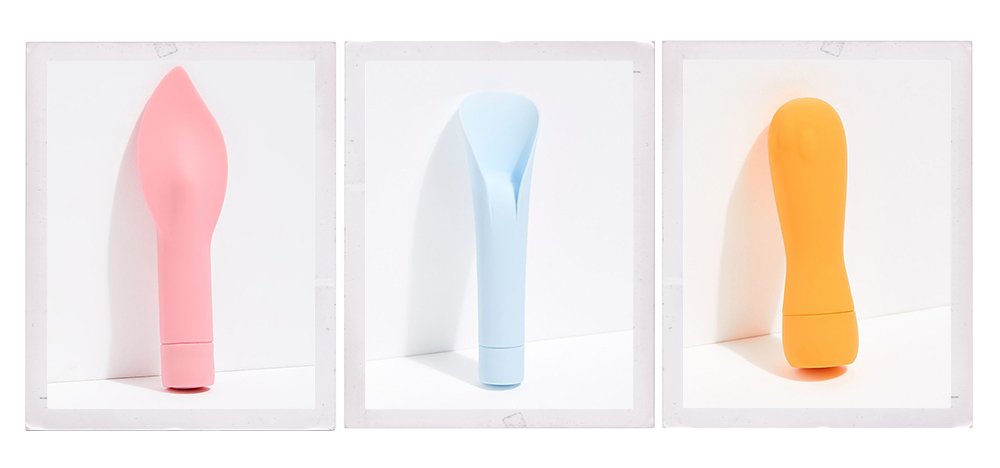 Lead GIF by Jessie Kanelos Weiner.