"Personal experience has made me the biggest fan of natural elixirs, and I wanted to make it practical to indulge in them."
This post comes to you from beauty contributor, Kari Molvar.
In her previous life, Pip Harwood likes to joke that she was Cleopatra: a beauty junkie obsessed with bathing in natural elixirs. In reality, she was born in New Zealand, in the small town of Pukekohe, and raised among glass beakers and metal scales, with her dad being a chemist. That's what sparked her interest in the healing benefits of natural tinctures and tonics. "I was lucky enough to work in his pharmacies and get to know the wellness industry through hands-on experience," the 28 year-old says. In particular, she fell in love with coconut oil and apple cider vinegar—which she noticed cleared up everything from her digestion to her skin—and soon became staples of her diet.
Years later, Harwood was busy working in the creative industry—as a graphic and web designer as well as a social media consultant and photographer—and realized it's kinda hard to lug around glass bottles of coconut oil and apple cider vinegar and thought: Wouldn't it be easier to pop them in pill form? And, boom, the idea for Tonik was born. Since launching last November, the Australia-based supplement brand is shaking up the wellness scene, providing a super convenient gel-capsule solution for getting your daily fix of CO. and ACV without actually have to drink them. (And the graphic packaging is beyond chic—not what you expect from a supplement company, right?). Here, we caught up with Harwood for a glimpse into her stylish, #dreamlife and what's next for Tonik.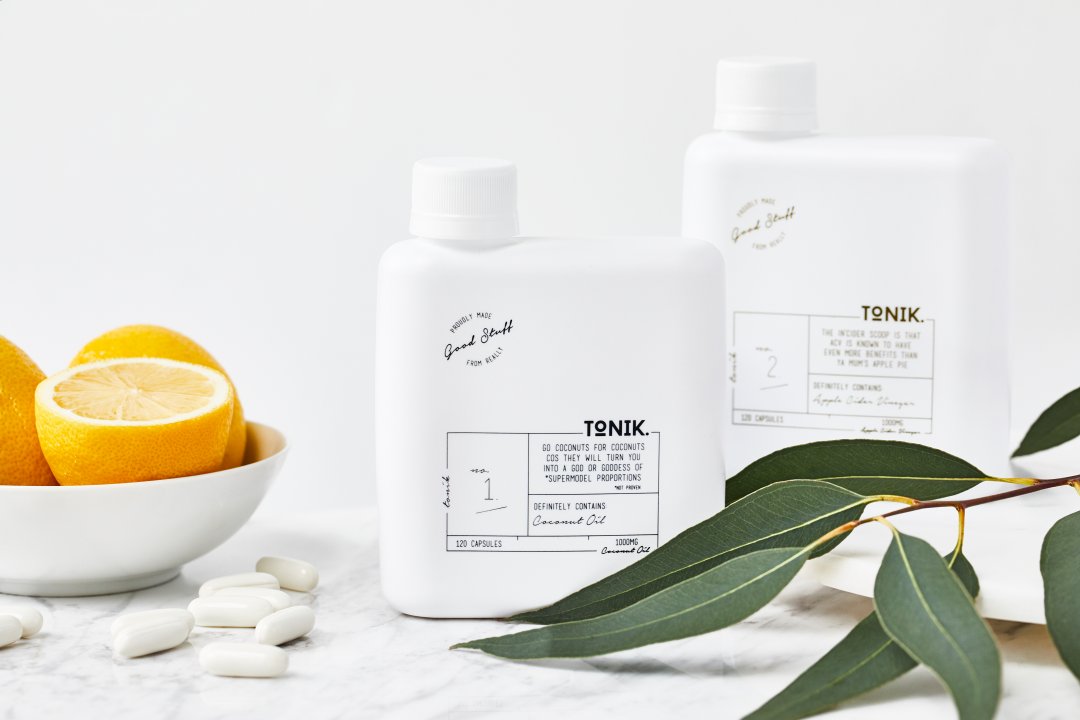 Where did the idea come from for Tonik?
Tonik is a concept that has been brewing for a while. It is a conglomerate of every aspect of who I am as a person. I spend the majority of my time on shoots in the South Pacific, and feel a kinship with islands. I have been taking both coconut oil and apple cider vinegar for years and have always treasured the concept of nourishment from the inside out. Personal experience has made me the biggest fan of natural elixirs, and I wanted to make it practical to indulge in them. Not everyone likes the morning chug of apple cider vinegar, so one day while sailing through Sulawesi with my best friend I thought, what if we could pack this powerful elixir into a digestible capsule? Traveling so much was really the 'aha' moment! No one likes traveling with breakable glass bottles of oil and foul smelling vinegar. Enter elixirs in capsule form, in a practical bottle.
Why focus on apple cider vinegar and coconut oil? What made these two ingredients stand out to you?
These two Toniks are my go-to's. I have been taking both daily for years and, the more I spoke to people about it, the more I realized there was a demand for an easier way to consume these two ingredients. Both ingredients actually compliment the other perfectly, in terms of their respective benefits!
What kind of results can we expect to see?
The easier question would be what kind of results won't you see. If you are in the business of looking like a glowing, radiant, perfectly balanced queen, then Tonik is the gear for you. Essentially it will nourish and balance you from the inside out. Your skin will clear up and begin to glow, your complexion will blend, your spots will disappear, your hair will grow, and that's just the aesthetic benefits. Taking both elixirs regularly will aid digestion; fight infection, inflammation and bacteria; boost your energy; and improve your memory. The list really goes on and on and on.
Where you do source your ingredients?
Mother Earth. More specifically, they are both sustainably sourced from Sri Lanka! We are in the process of sourcing from the South Pacific as the goal of Tonik's philanthropic journey is to give back and support local farms in the island nations. The South Pacific is so close to our hearts and we really want to support the growth and development of sustainable farming in these areas.
How should we incorporate these supplements into our lives? When do you take them? With or without food?
Take your Toniks with the rise and fall of the day. Pop 2 capsules of each with sunrise (or when you generally have breakfast) and sunset (or at dinner time). Depending on your individual constitution, Tonik should be taken with food.
What inspired the packaging design?
We at Tonik are huge fans of minimalist design. The bottles aim to be highly functional, but super on-trend and stylish. We noticed a huge gap in the market for beautiful products with branding that matched the benefits. The bottles are designed for travelers; they fit perfectly into the side pocket of your bag!
Tell us about the other parts of your wellness and beauty routine. Any favorite products, tips or tricks?
To be honest, using apple cider vinegar topically was a game changer and something I do consistently. It's the best toner on the market! A splash of ACV on my face followed by Vintners Daughter has my skin glowing. It's the same with using coconut oil topically. Tonik elixirs aren't just beneficial in ingestible form; they pack a powerful punch on your skin as well. You can use coconut oil as a hair mask and for a rub down while you're still wet after a hot shower—you'll get smooth, supple skin in an instant.
Do you have a favorite DIY recipe or homemade beauty ritual you can share?
I love making homemade rosewater toner as well, which actually includes apple cider vinegar. When the roses in my vase are starting to wilt, I just boil them up for 20 minutes until the petals lose their color, then strain and cool the water. All it takes from there is a quick combination of witch hazel, apple cider vinegar and a few drops of essential lavender oil. Perfect for a mid-flight spritz or a freshening up during the day.
What's next for Tonik? Do you plan to launch more products?
We have a few secret elixirs in the mix, but right now we are focused on getting our first heroes to the masses. The beauty of the products we have is in their simplicity. They are products you would find in your mum's pantry that you might have overlooked for the past decade. So who knows what will be next. Stay tuned!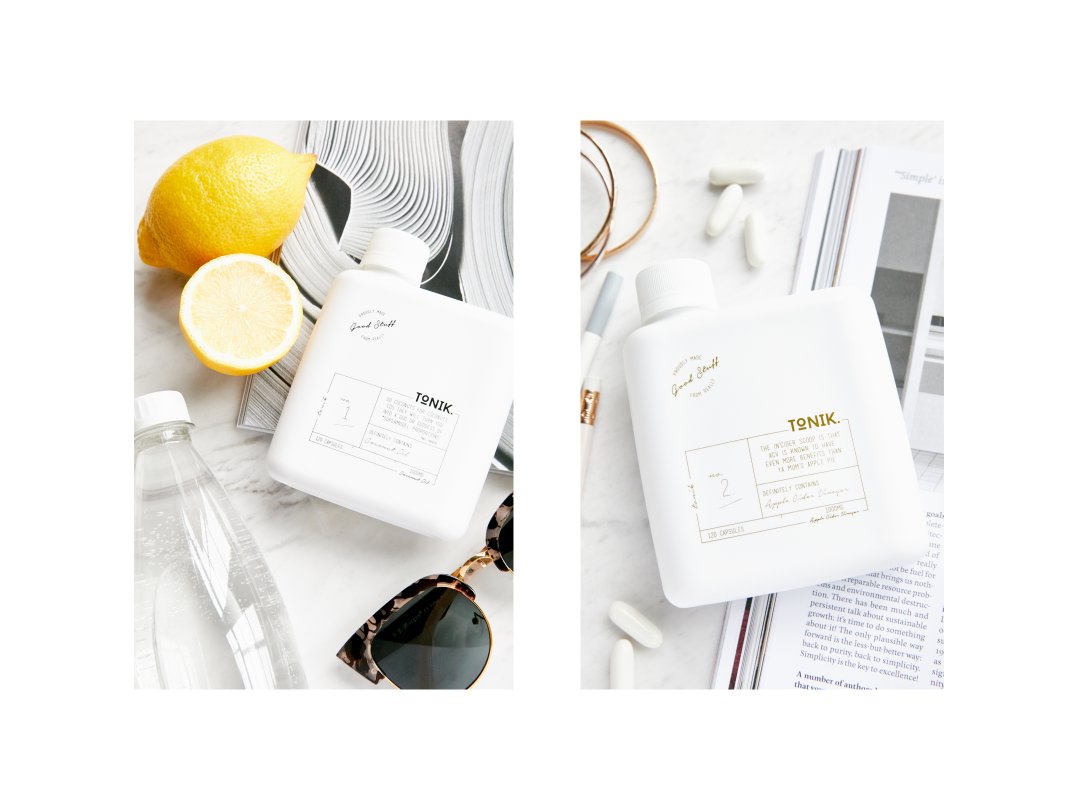 + What are your thoughts on Tonik? Let us know in the comments below.
Read more from Kari here!!